How to conduct a Virtual expo successfully
The impressive concept of virtual expos is catching on like wildfire these days. More and more expo organizers and expo managers are coming forth to conduct their expos and trade expos in the online space…more and more companies are setting up their stalls in online virtual expos…
Caught up in the midst of all these fuzz, software developers and designers across the globe are left with no other option…but to exploit the situation to the maximum and develop highly efficient virtual trade show software.
And while you are at it…conducting a virtual expo using one of those software's, let's just bombard you with few tips on how to take your 3D virtual exhibition up the flights of success: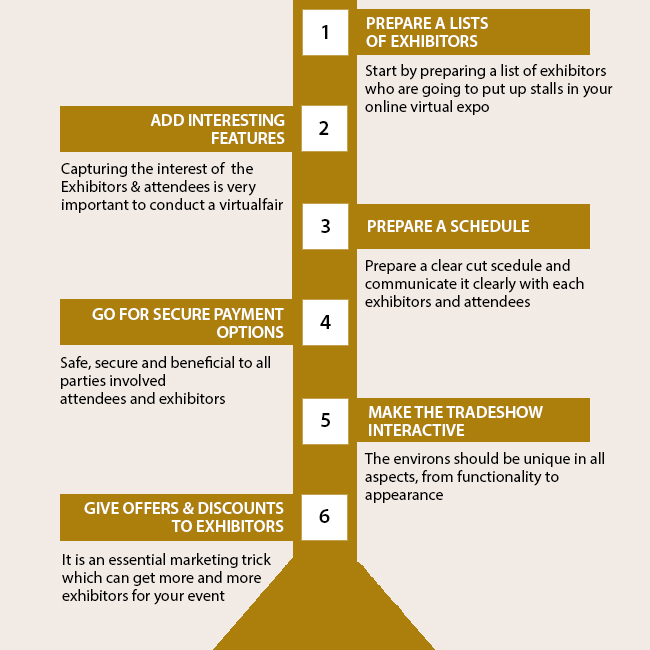 Be a step ahead:…and plan things in advance. Keep everything up to date, right from planning to execution. Start by preparing a list of exhibitors who are going to put up stalls in your online virtual expo. Analyze the characteristics of each exhibitor (for instance…the possible pull which they can get, the revenue they can generate, the nature of their products, their popularity, the shipping methods they prefer, their past track record, their trustworthiness, their preferred payment channels, etc). Such an analysis will, later on, help you, when it's time to manage monetary and other trade-related aspects between you and the exhibitors.
Schedule things: Next, prepare a clear cut schedule and communicate it clearly with each exhibitor. Make sure that you, along with all the exhibitors stick to your schedule; from beginning to end. Also share the login details with the exhibitors in advance, so that they can update and design the booths on time.
Get an estimate of the number of attendees that your 3D virtual exhibition might pull in…in advance, and plan accordingly.
During the expo: Converse with attendees frequently and keep updating the exhibitors, so as to bridge any communication gaps that might arise.
Make your interactive virtual trade show and it's environing unique in all aspects, including everything from functionality to appearance. An eye-catchy atmosphere, as well as ease of usage, can go a long way in marketing and brand building. So don't ignore the look and feel aspects. Keep everything up to date, and leave no space for criticisms from exhibitors or attendees.
People may not always be aware of how to participate in your 3D interactive virtual tradeshow. Sometimes the ignorance could be about simple things such as how to register, while at other times it could be about advanced things such as tools, functionalities, payment and shipping aspects, etc. But whatever it is, just make sure that you save the day by providing "How to" tips or FAQS for exhibitors and attendees to register and participate in the virtual fair, swiftly.
Keep your 3D virtual expos up to date with interesting features. Capturing the interest of the exhibitors and attendees is very important to conduct a virtual fair successfully.
Make sure that the payment options you choose are safe, secure and beneficial to all the parties involved (yourself and exhibitors).
Provide adequate offers and discounts to exhibitors…an essential marketing trick, which can get more and more exhibitors for your expo.
And the virtual expo software you are using…is it HexaFair? 'cos HexaFair is one of the best 3D expo software around. So don't miss it.