OUR SOLUTIONS
The best Virtual event, Virtual Tradefair, Virtual Fair & Virtual Conferences solution for your business catering to agencies, tradeshow organizers and event consultants!

Virtual Exhibition Fair
Utilize a dynamic online exhibition fair to maximize the lead generation facets of your event by touching thousands of business prospects.

Virtual Summit
HexaFair gives you all the features & tools you need to host your very own virtual summit.Complete control to manage Speakers & Sponsors, Sessions & Schedules.

Virtual Job Fair
Monetize your Job Board or simply Drive Hiring Activity with Virtual Job Fairs.

Virtual Career Fair
Attract & engage 3 to 5 times more candidates to your Virtual Career Fair compared to a physical fair.

Virtual Property Show
Showcase a broad selection of apartments, villas and houses to a wider audience by going virtual.

Virtual Auto Show
Monetize the vast reach and potential of a virtual platform by taking your auto show online.

Virtual Product Launch
Give your stellar product the glorious online launch that it deserves through a virtual event that covers everything you wish to share.

Alumni Networking Event
Impress Prospective Students by connecting them with successful University Alumni.

Student/Alumni Virtual Job Fair
Get Students/Alumni Hired Faster by connecting them with employers in an engaging event.
Create Differentiated Online Event Experiences
A highly-extensible platform that takes the onus of security and scalability to fast-track your growth.
Invite just a few of thousands to attend any individuals or a crowd program.Hosted in the cloud for virtually unlimited scale.Live events with thousands of concurrent attendees; unlimited on-demand attendees
Reach attendees on any device, any platform. Full experience on both Android and iOS mobile devices No downloads, no plug-ins Cross-browser viewing; IE, Chrome, Firefox, Safari
Pass the strictest enterprise security review with secure settings; Domain/email whitelisting; Password-required events with elevated password complexity and password lockout; Secure cookie handling; Secure content via HTTPS
Connect seamlessly to the software you need. Our highly extensible, flexible platform will offer integrations with industry-leading software, Google Drive, Dropbox, OneDrive, SalesForce CRM, Hubspot CRM, Marketo & Drift
Develop and scale faster with APIs. Run your business the way you need to. Quickly develop elegant solutions to complex problems using our APIs. Our Restful architecture allows you to code in the language of your choice
GDPR Compliance; The Customer shall have the sole responsibility for the accuracy, quality, integrity, legality, reliability, appropriateness, & intellectual property ownership or right to use any and all customer data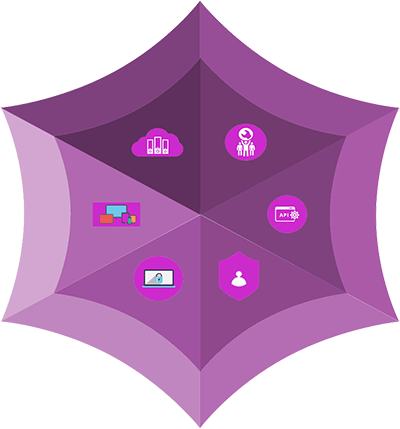 Integrations
All of the ways HexaFair can fit into your workflow
We don't want to change the way you work. We're focused on making it easy to connect HexaFair to all of the techs you're already using.
Start your virtual event journey with HexaFair
It is our services making your Virtual Event & Conferences BEST! Have a read below on how we manage each phase And can assist in the following disciplines to make your Virtual event successful!