Online Registration & File Upload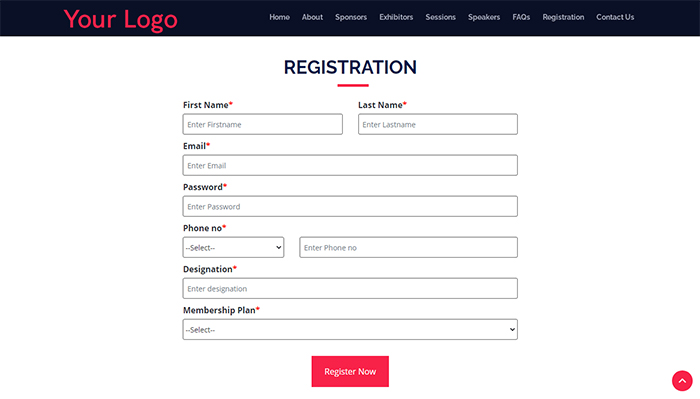 Every participant can register online for the event by filling out a registration form before the fairs & exhibition starts. If there are exhibitors they can also register, upload & manage their company info, and promote business offers or product brochures.
Fairs & Exhibition Ticketing
Participants can register and buy the tickets from exhibition website. Physical visitors can also access the website from their mobile and complete the registration, make the payments. PayPal and Stripe payment gateways are supported.
Check-In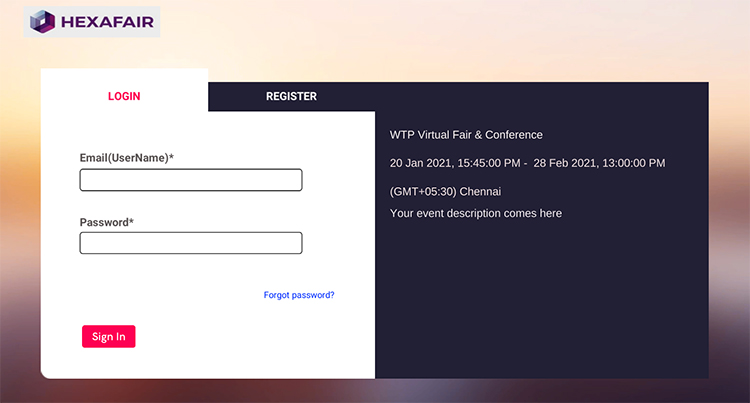 Physical attendees can check-in to the event from their mobile. Virtual attendees can log-into the virtual platform.
Virtual Booths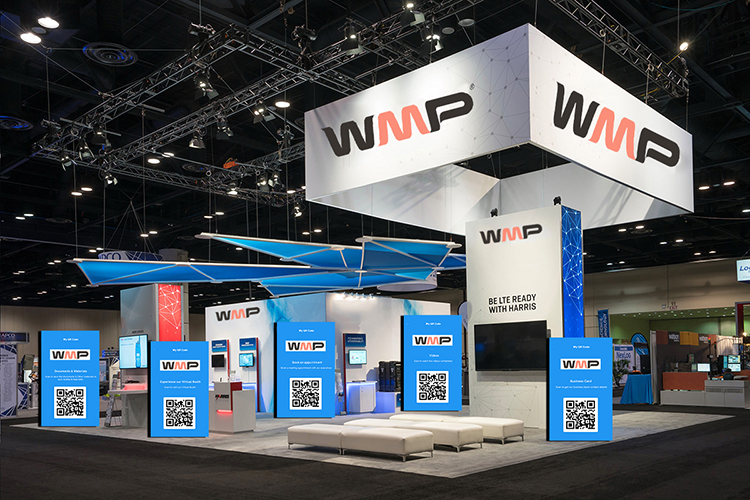 Participants will have a view from all exhibitors and they will be able to enter on their virtual stands using QR Code available in the booth.
Chat & Video Meeting Rooms
Participants & exhibitors can find each other and interact at any given time via chat or video meeting rooms. Power connections and boost networking opportunities for virtual B2B trade fairs by enabling both parties to meet at shared conference rooms or private meetings.
Exchange Business Cards – Contact Less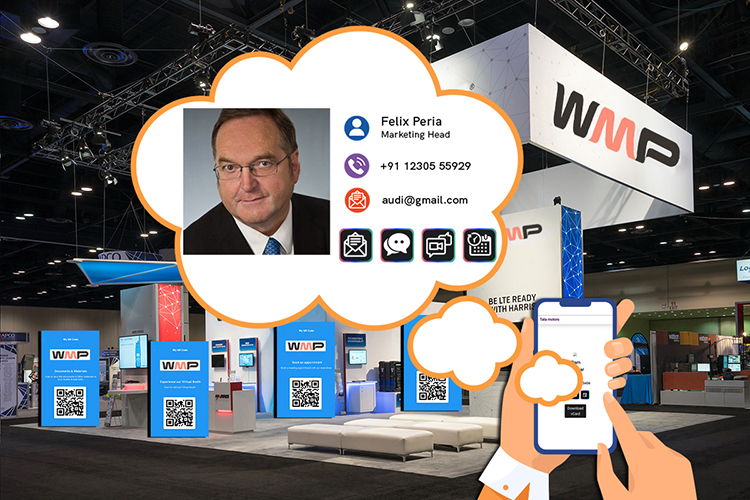 Physical attendees can go to any exhibitor booths, scan the QR code sticker and exchange the business cards in one click. Virtual Attendees can visit virtual booths available in the virtual platform and download the business card.
View & Access Booth Documents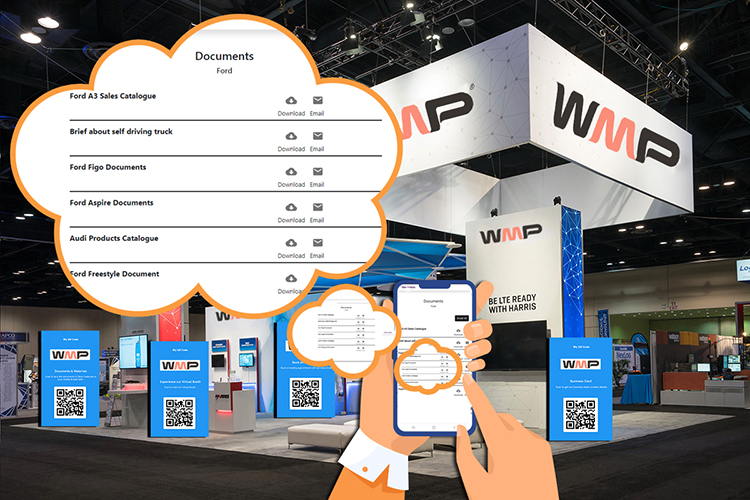 Physical attendees can download all booth documents by scanning the QR code available in the booth, download them to their mobile device. They can also share it to their email as well. Virtual attendees can visit the virtual booths and download the documents.
View & Access Promotional Videos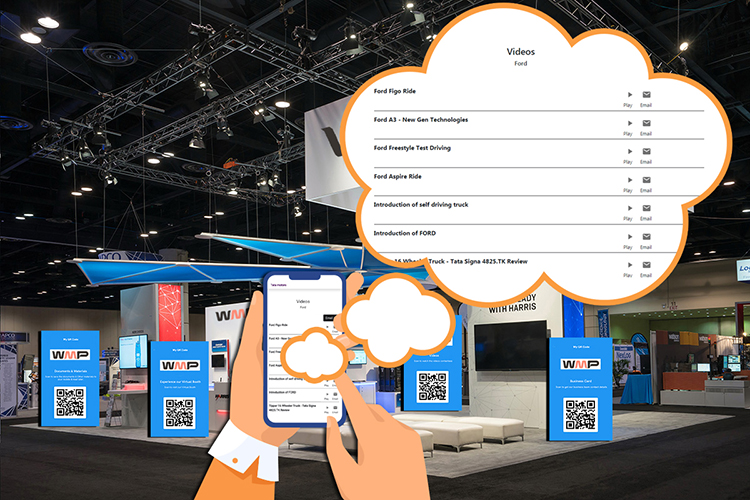 Physical attendees can download all booth videos by scanning the QR code available in the booth, watch them to their mobile device. They can also share it to their email as well. Virtual attendees can visit the virtual booths and watch the videos.
Dashboard & Reports
You'll be able to prove the much higher engagement rates with solid data. All the interactions get saved on the HexaFair platform, so that you can better understand your event's reach and performance and even outline plans to maximize it.
Gamification: Engagement Hooks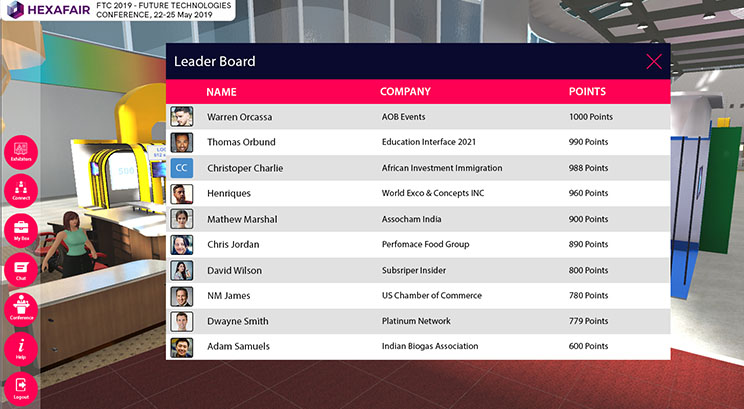 See your exhibition and trade fair engagement soar to the North by gamifying the experience for both virtual and in-person attendees. Configure engagement score for each tap, click and swipe across the event.
Networking Premium Space
Enable your attendees to connect & interact with each other in a highly engaging way by making available online networking rooms. They are able to search for specific peers by applying specific filters, such as company name or job title.
Physical visitors can search and connect others from their mobile. They can view other's business cards, text chat with them. Physical visitors can also connect with Virtual Attendees. Virtual attendees can connect with Physical attendees.
One can set their available date & time for networking, dedicate their specific times for networking.
The #1 Hybrid Fairs & Exhibitions Platform To Converge Online & Offline
Find out how Our Virtual Fairs platform integrates perfectly with your in-person Fairs & Exhibitions to create a seamless hybrid experience.
| | Virtual | On-Site |
| --- | --- | --- |
| Registration & Ticketing | | |
| Registration forms | Yes | Yes. Mobile app |
| Payment gateway integration to accept payments | Yes | Yes. Mobile app |
| Plans management & Discounts | Yes | Yes. Mobile app |
| Integrate Registration System with your CRM | Yes | Yes. Mobile app |
| Event Website | | |
| Event Website | Yes | Not required |
| Exhibitor Management | Yes | Yes |
| Reporting dashboards | Yes | – |
| Immersive Digital Experience | | |
| Virtual Lobby | Yes | – |
| Virtual Auditorium | Yes | – |
| Virtual Expo Hall | Yes | – |
| Attendee Check-in | Virtual Platform Login | Yes. Mobile app |
| Networking | | |
| Personalized Recommendations/360 Degree Matchmaking | Yes | Yes. Mobile app |
| One-on-One Text Chat | Yes | Yes. Mobile app |
| Lounge | – | – |
| Breakout Rooms | Yes | – |
| Sponsors | | |
| Sponsors management | Yes | – |
| Sponsors logos/ads | Yes | – |
| Maps and Floorplans | Yes | Yes |
| Exhibitor Booths | | |
| Appointment Booking | Virtual | QR Based |
| Video call with Staffs | Virtual | QR Based |
| Booth Documents | Virtual | QR Based |
| Business Card Exchange | Virtual | QR Based |
| Booth Videos | Virtual | QR Based |
| QR Stickers | – | Yes |
| Booth Visitor auto-attendance | Yes | Yes. Using QR Code based |
| Gamification | Yes | – |
FAQ's –Hybrid Fairs & Exhibitions Technology
The platform can host 5 to 1000 exhibitors/booths.
HexaFair runs in all major browsers. No special add-ons/software required. The on-site attendees can access different touch points using QR Codes.
Yes. HexaFair provides Android & IOS mobile apps for each event specifically. The visitors of the virtual Fairs & Exhibitions can install the mobile apps and experience.
There is no limitation. But discuss with your project manager/Sales team for the volume and cost associated in prior.
We can make color changes to the booths without any additional cost. Changing the booth model completely or Integrating your own booth model/your customer's booth model designs, it will incur an additional cost.
Physical attendees can simply scan QR code and access all the contents (videos and documents) available in the exhibition venue.
No. Virtual attendees can engage with the virtual exhibitors (extension of their physical booth). If the staff of the virtual exhibitor is available, they can engage virtually. But, the virtual attendees can not engage with physical staffs available in the venue.
But, the physical attendees can engage with virtual exhibitor staffs using video conferencing facility.
Fairs & Exhibitions Participation Increases By 20%, Your Productivity Increases By 27%
For those who fear that the option to attend the fair online will reduce participation in physical activity, this rate proves otherwise. Virtual extensions have quite the opposite effect because they help you catch attendees who would not have been able to make it to the physical premises. It also captures passive visitors who may not see much reason to attend a physical event, choose to attend from the comfort of their home or come from afar. By providing a more convenient mode of engagement and showing passive visitors the potential of your engaging content online, you increase their chances of attending the upcoming physical event.
Online Exhibition Technology Reduces Costs by 20% – 30%
Physical events already require a lot of resources, money, and time. However, you can be sure that virtual fairs will not increase these costs. By adding a digital trade show extension, you lower the cost per exhibitor and lower your audience's travel expenses. This may be a factor that eliminates the reasons limiting physical participation.
You Can Continue To Increase Your Return On Investment After The Live Fair Is Over
The most distinguishing benefit of virtual events over their physical counterparts is that once the live days are over, the virtual event can still live on. By making the webinars that help you connect with an international audience and content accessible to an international audience in the virtual fair, you can make the most of your content and extend the life of your fair by expanding opportunities to create potential customers and earn money.
A virtual exhibition booth lives from the same content as a real exhibition stand: company logo, banners, videos, product presentations, products, brochures prepared on the specifications mentioned to the booth model allocated to them.
For this purpose, the exhibitors have attractive template stands available that can be individualized and adapted to the company design.
HexaFair is the best Hybrid Fairs platform offering all the tools& solutions that allow Fairs organizers to effectively engage audiences and generate massive ROI.
Organizers can typically create and host immersive and personalized virtual fairs extending the support to on-site fairs within a few days!
You're Just a Few Clicks Away from a Great Event!
Contact HexaFair team, and explore all the tools and services you need to start, promote, conduct and measure your Virtual Tradefair, Virtual Expo & Virtual conference successfully
The success of your Virtual event is our #1 priority.