VIRTUAL EVENTS & FAIRS WEBSITE
Drive attendance to your Virtual events with professional-looking event websites and emails designed to match your corporate branding, while promoting your event via social media and word of mouth. Target your virtual events marketing more precisely with CRM integration, Hubspot, SalesForce, Marketo, Drift.
VIRTUAL EVENT & FAIRS Landing Pages
Impress your audience with sleek, professional-looking event websites.With HexaFair virtual events platform, your event website set-up is quick & easy. No external help or HTML knowledge is required!
SOCIAL MEDIA
Create a buzz around your virtual events & virtual fairs using social promotion tools to harness the power of Facebook, Twitter, Snapchat, Instagram, and LinkedIn.
FLEXIBLE ONLINE REGISTRATION FORMS
Streamline even the most complex event registration processes. Enables faster &easy virtual fairs, virtual conferences, hybrid events registrations & virtual booth bookings online.
EMAIL MARKETING
Drive registrations to your virtual events & virtual fairs by sending targeted, professional-looking emails to your database using any Email Marketing software.
3D VIRTUAL EVENTS & HYBRID EVENTS PLATFORM
Offer an IMMERSIVE EXPERIENCEof Virtual Events, Virtual Fairs, Virtual Conferences, Hybrid Events, Hybrid Fairs to your attendees from the moment they arrive at our events platform until their final session.
EXHIBITORS DIRECTORY AND MAP
Directory of all exhibitors & Booth no. Using Teleport Navigation, the attendee is taken to the booth directly
3D VIRTUAL AUDITORIUM
3D Interactive Virtual auditorium to conduct live conferences, Breakout sessions, Q&A, Polls, all in one software.
ON-DEMAND VIDEOS VIRTUAL STAGE
Recorded videos and audios for the participants to watch on demand at their convenience during pre-event & post event.
3D VIRTUAL LOBBY
A 3D Virtual lobby with welcome video wall, designated area for sponsors, help desk.
3D VIRTUAL EXHIBITION HALL
An immersive virtual 3D Exhibition hall, floored with 3D Virtual booths allow the sponsors & exhibitors to exhibit services or products.
Virtual Conferences in 3D Auditorium
An online events platform for your Virtual Conferences&events, designed to deliver real engagement and best-in-class interactions, sessions hosted live or accessed on-demand for an elevated audience experience.
INBUILT INTERACTIVE LIVE SESSIONS
Speakers: Manage your agenda and speakers of virtual events with our built-in management tool.
Agenda &Sessions: The event organizer can manage sessions and times.
Speakers Log-in: Speaker can join by logging in from Zoom or Microsoft Team or Google meet, start streaming.
Recording: Record every sessions and make them on-demand to participants later (On request).
Q & A: Attendees can post live Q & As.
Polls: Unlimited polls with audiences available.
BREAKOUT SESSIONS
HexaFair supports multiple concurrent sessions (upto 5 tracks). Tracks appear on the main event page, allowing attendees to preview simultaneous sessions and select which track they want to join.
Q&A available for all tracks
Speaker bios, calendar integration and downloadable presentations
FEATURE-PACKED 3D Virtual BOOTHS to your Virtual & Hybrid events
3D Virtual Booths are packed with interactive features offer immersive experience to your virtual events attendees. Display images, documents, data sheets and play videos bring your 3D virtual booth to life.
EXHIBITOR COMPANY INFO
One can view the information of the exhibitor
CONTACT FORM
The attendee can submit the details via contact form to the exhibitor
BANNERS AND POSTERS
Each product is showcased with product image, description, price, ability to purchase the item
PRODUCTS
Images used to brand the booth. Using high-resolution images, advertise the services offered by the exhibitors.
JOBS
The attendee can view the job information and can apply to the job by attaching their CV and Business card
BUSINESS CARD
Contact information of the exhibitor & Business Card exchange request option available
CHAT
Allow the attendee to chat with exhibitor staffs
VIDEOS
Videos of Company introduction, manufacturing process, product tutorial etc
DOCUMENTS
Brochures, catalogues, flyers introducing the company, user manuals, product information sheets
Virtual Networking: Social Lounge for one on one meets
Events have an end, but communities live on forever. Harness the excitement of your events and convert it into a branded, a place where like-minded individuals can meet for networking.
BUILD DEEPER CONNECTIONS
Events have an end, but communities live on forever. Harness the excitement of your events and convert it into a branded, a place where like-minded individuals can meet for networking.
POWERFUL ENGAGEMENT TOOLS
Directory of visitors: Display the list of attendees of your virtual & hybrid events.
Profile: Display the information of the person
View Business Card: Display the contact details of the person
Filters: Filter by company name, Filter by area of interests
Virtual Business Card: Can be shared with other attendees & exhibitors.
Allow attendees to have one-on-one video call meeting.
Record every sessions and make them on-demand to participants later (On request).
Brand your virtual networking lounge for sponsors and exhibitors.
VIRTUAL BREAKOUT ROOMS
Offer small virtual breakout rooms inside thevirtual events & fairs platform feature allows you to split a Meeting into small groups and then reassemble, as in a typical face-to-face roundtable session.
Provide your premium exhibitors access to Demo rooms to provide leads with engaging virtual demos. Integrated with Zoom Breakout rooms or HexaFair breakout rooms (Pay per usage).
Group Video Meetings for Breakout sessions
Moderator control can also be given to hosts or moderators
Room display visibility can be controlled
Demo Rooms Provision to premium exhibitors
ANYWHERE & ANYTIME - CROSS BROWSER& MOBILE APP
Reach attendees on any device, any platform. Supercharge your Virtual event with fully browser-based 3D immersive virtual experience.
CROSS-BROWSER VIEWING
Runs well on latest version of all major browsers, IE, Chrome, Firefox, Safari
MOBILE APPS
Full experience on both Android and iOS mobile devices. You can provide even more value to your attendees by going mobile with our premium native mobile event apps. Give your attendees more ways to engage with your virtual events, virtual fairs & conferencescontent, exhibitors, speakers, partners, and fellow attendees.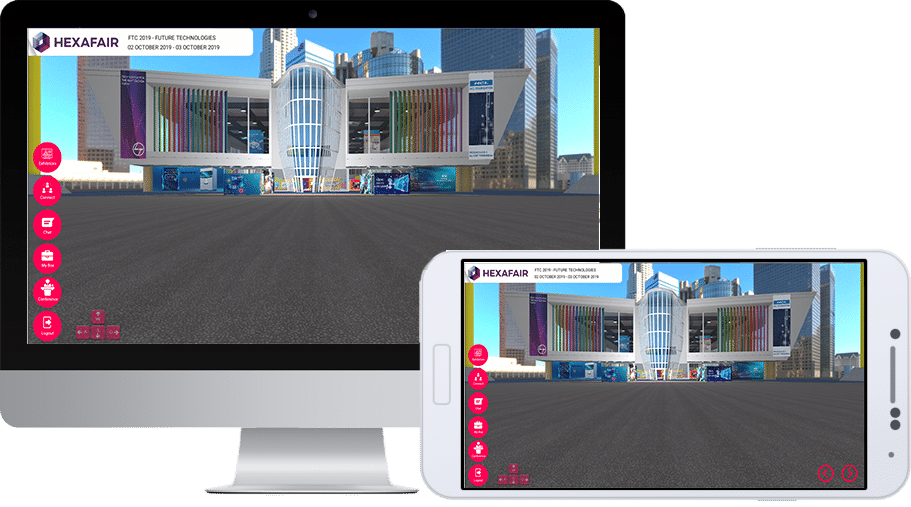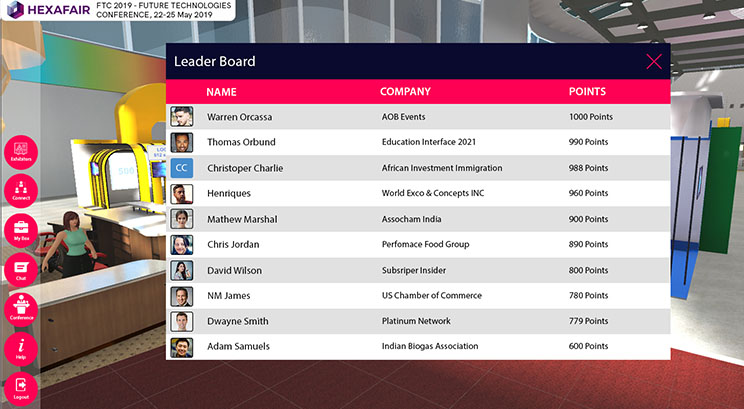 GAMIFY THE ENTIRE EXPERIENCE
Add zing to your virtual fairs& virtual trade show and gamify it with HexaFair. Incorporate gamification features in real-time and create a fun & memorable experience.
Activate leaderboard for virtual communities
Assign points to different activities
Reward attendee activities and actions
DASHBOARDS - Success You Can Measure
Track every detail of your virtualtrade show& hybrid fairs with live insights and instantly report event ROI to your stakeholders
EXHIBITOR DASHBOARD
Average no.of time spent by attendees in Booth, No.of people visited the booth
Online meetings: Total no.of business cards exchanged, No.of 1:1 chats happened
Attendees by industry, Attendees by interest, Attendees by Country, Attendees by Job Position
EVENT ORGANIZER DASHBOARD
Total no. of Registrations
Booth documents statistics: Last 15 days, all time, Top 20 images viewed, Top 20 documents viewed, Top 20 videos viewed
Average time spent by attendees in Auditorium, Booths, Reception, Business lounge
REPORTS
Gain complete access & real-time visibility for virtual fairs & hybrid fairs offered by HexaFair Complete Virtual Fair Management System. Accelerate sales funnel for business growth. Generate & download reports in CSV format for data processing.
EXHIBITOR
Can avail the reports of Booth traffic (attendees who visited the booth), Booth contents viewed report (Images, Videos, Documents), 1:1 chat made with attendees, Virtual Business card viewed
ORGANIZER
Can avail the reports of Exhibitor registration, Attendee registrations, Attendees turned out to the virtual events & conferences, Booth Traffic report, Booth contents viewed report (Images, Videos, Documents), Sessions engagement report
Plugins
Give best Experience to your Virtual Event, choosing from availble plug-n-play plugins offering solutions for every part of your Virtual Tradefair, Virtual Fair, Virtual Conference needs
You're Just a Few Clicks Away from a Great Event!
Contact HexaFair team, and explore all the tools and services you need to start, promote, conduct and measure your Virtual Tradefair, Virtual Expo & Virtual conference successfully
The success of your Virtual event is our #1 priority.