Virtual Alumni Networking Event
Give a great opportunity to explore and connect old friends & engage. Empower alumni with private and group chat tools to boost engagement at the Alumni Networking Event. Impress Prospective Students by connecting them with successful University/College Alumni.

Virtual Employees Networking Event
Give a great opportunity to explore and connect employees from different departments & locations by removing geographical barrier. Empower employees & management people with private and group chat tools to boost Networking Event. You can reward employees & conduct live Q&As and competitions virtually.

Virtual Partner Expos/Summit
Conduct Virtual Partner Expos organizing agents, channel partners, value-added resellers, managed service providers, integrators, consultants and suppliers. HexaFair gives you all the features & tools you need to host your very own virtual partner summit successfully.

Virtual International Business Networking Event
Organize a closed business group meet by inviting all stakeholders and members to join and engage in 'Virtual Business Networking Event'. One can plan for product launch, Company announcements at the virtual event.
VIRTUAL COMMUNITY FAIR WEBSITE - Promote Like a Pro
Drive attendance to your Virtual Community Networking event with professional-looking event website and emails that match your branding, while promoting your event via social media and word of mouth. Analyze your event marketing efforts with Google Analytics integration, and target your event marketing more precisely with CRM integration, Hubspot, Salesforce, Zoho CRM.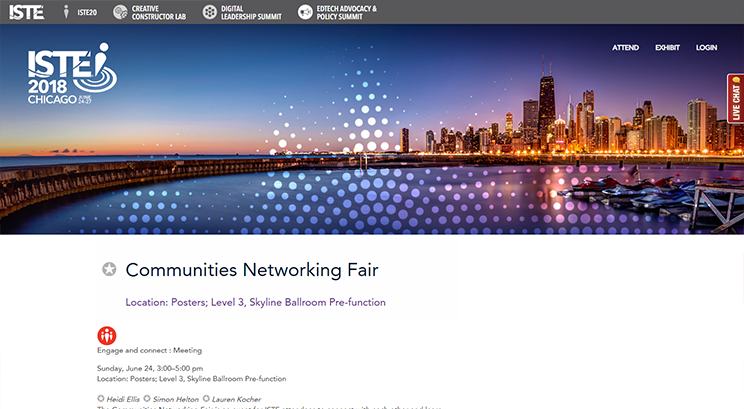 1) Engage prospective people anywhere with fully-branded email and text campaigns
2) Develop an informed pipeline of engaged and interested prospective people
3) Automate communications to connect with prospective people and drive action at the right time
VIRTUAL COMMUNITY FAIR PLATFORM - Host Flawless Virtual Networking Event
Ensure your attendees have a positive experience from the moment they arrive at Virtual platform until their final session.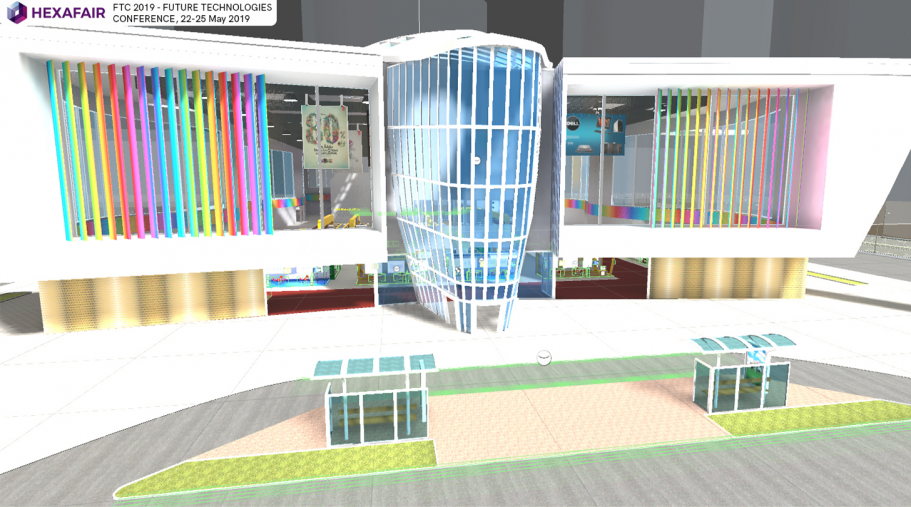 VIRTUAL EXPO
Host a small Virtual Expo at Virtual Community Networking Fair, where one can view a live, real-time floor plan showing currently available booths (exhibitors & sponsors), can browse through the loads of information presented in booths by exhibitors, allow exhibitors to interact with attendees in live.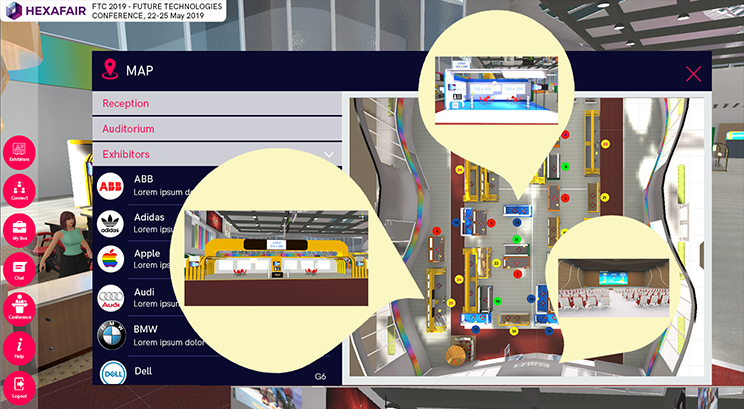 FEATURE-PACKED BOOTH
Booths are packed with features that people can interact with in Virtual Fair. You can host images, documents, data sheets, and play videos to bring your booth to life.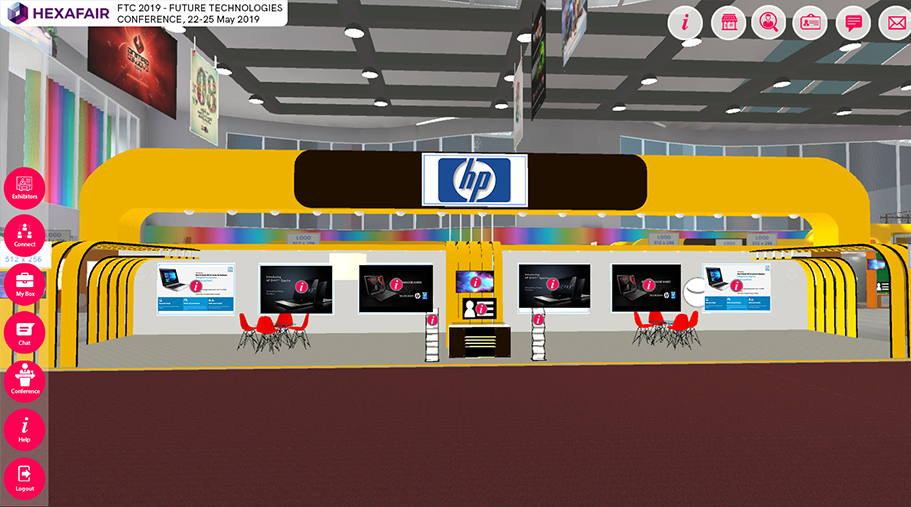 NETWORKING – CONNECT WITH OTHERS
Browse through the list of attendees in a sorted way to make important business connections.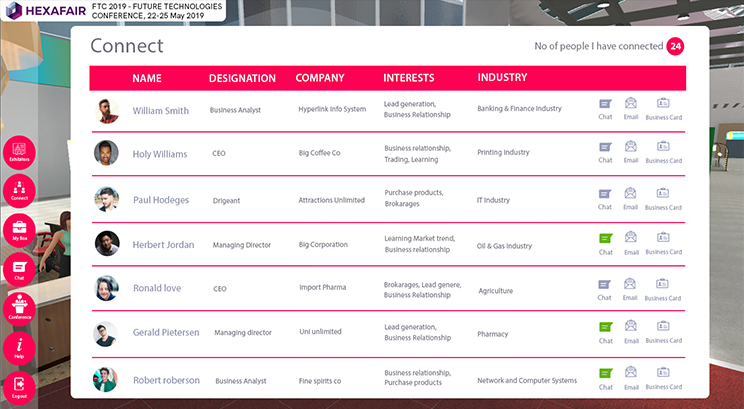 The Alumni search function (available only in Alumni Networking Module) is a great tool to find people associated with a particular school, industry or location. Visit the Alumni tool and your college or university will be selected which will then allow you to break down connections by "When they studied," "what course they studied," and "where they live, "where they studied," "what they are skilled at," and "how you are connected."
MASTER-CLASS SESSIONS & GUEST SPEECHES
HexaFair unlocks your ability to sell experiences, relationships and expertise in one place. Host the largest live online event for your audiences with well-crafted sessions. All without leaving the office or asking for budget.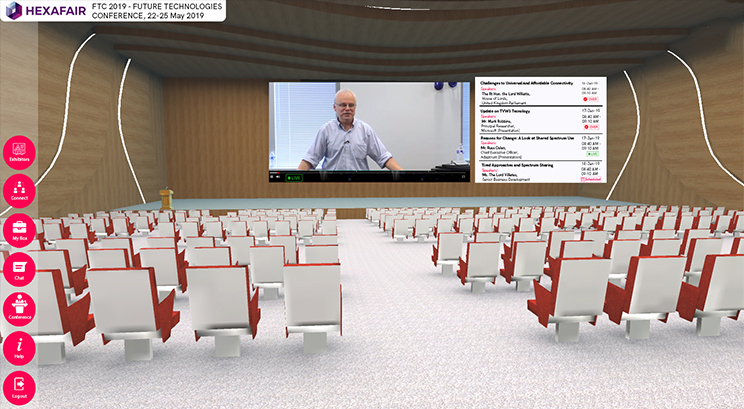 1) Enter presentation details (type of presentation (Recorded/Live), Type of Content (Audio/Video)) at pre-event, available at event website & Platform at live-event.
2) Webinars (Live/Pre-Recorded): Host series of sessions through webinars, allow the attendees to download them later (Post event)
3) Video Streaming (Live/Pre-Recorded): Host series of sessions through live-streaming (video) services available
4) PowerPoint Presentations: Present & Play online, allow the attendees to download them
5) Strategically assign your speakers specific days in your event. Add them to either the morning or afternoon session for the da
DASHBOARDS - Success You Can Measure
Track every part of your virtual networking fair with real-time insights and instantly report event ROI to your stakeholders.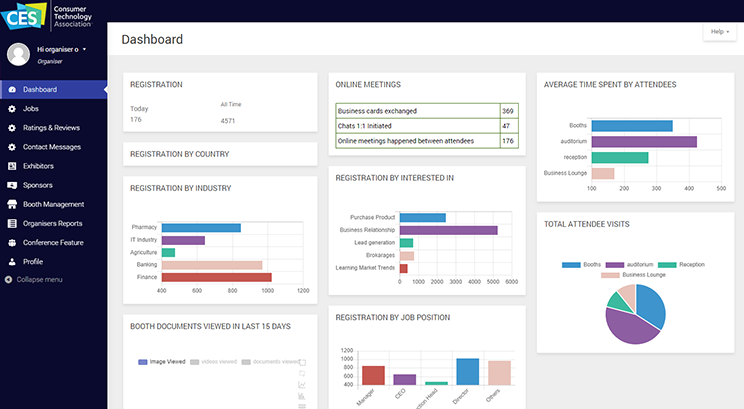 1) Online meetings: Total no.of business cards exchanged, no.of 1:1 chat happened
2) Attendees by industry, Attendees by interest, Attendees by Country, Attendees by Job Position
2) Online meetings: Total no.of virtual business cards exchanged, No.of 1:1 chat happened
3) Booth documents statistics: Last 15 days, All time, Top 20 images viewed, Top 20 documents viewed, Top 20 videos viewed
4) Average time spent by attendees in Auditorium, Booths, Reception, Business lounge
REPORTS
HexaFair provides you with full access and visibility for your virtual community fair and ongoing content to help you gain actionable insights, accelerate your funnel, and ultimately grow your event further. Drill down reports can be exported in CSV formats for further data processing.