VIRTUAL PROPERTY FAIR WEBSITE - Promote Like a Pro
Drive attendance to your Virtual Property Fair with professional-looking event website and emails that match your corporate branding, while promoting your event via social media and word of mouth. Analyze your event marketing efforts with Google Analytics integration, and target your event marketing more precisely with CRM integration, Hubspot, SalesForce, Zoho CRM.
VIRTUAL PROPERTY FAIR WEBSITE
Impress property buyers and property exhibitors with sleek, professional-looking website for your Virtual Property Fair. Your staff can easily set up and manage event sites without the help of outside designers and IT.
FLEXIBLE ONLINE REGISTRATION FORMS
Streamline even the most complex event registration processes, allowing property buyers to easily register for Virtual Real Estate Fair, sign up for sessions. Allow Property exhibitors (Real estate property owners, Real estate developers, Real estate investors, Real estate financiers) to book for booths and complete registration online.
SOCIAL MEDIA
Create a buzz around your Virtual Real Estate Expo using social promotion tools to harness the power of Facebook, Twitter, Snapchat, Instagram, and LinkedIn.
EMAIL MARKETING
Streamline even the most complex event registration processes, allowing property buyers to easily register for Virtual Real Estate Fair, sign up for sessions. Allow Property exhibitors (Real estate property owners, Real estate developers, Real estate investors, Real estate financiers) to book for booths and complete registration online.
EVENT PLATFORM - Host Flawless Virtual Property Fair
Ensure your attendees have a positive experience from the moment they arrive at Virtual platform until their final session.
EXHIBITORS
Directory of all exhibitors & Booth no. Using Teleport Navigation, the prospective real estate buyer is taken to the booth directly.
MY BOX
One can easily go through the history of Documents, Videos & Images viewed by him & allow them to download. The attendee can view the report of the exhibitors visited, People connected with, Business cards exchanged (Requests made & requests accepted), Chats made with exhibitors.
ANYWHERE & ANYTIME - CROSS PLATFORM
Runs well on latest version of all major browsers, IE, Chrome, Firefox, Safari.
MOBILE APPS
Full experience on both Android and iOS mobile devices. You can provide even more value to your attendees by going mobile with our premium native mobile event app. Give your attendees more ways to engage with your virtual event & conference content, exhibitors, speakers, partners, and fellow attendees.
FEATURE-PACKED 3D Virtual BOOTHS to your Virtual & Hybrid events
Booths are packed with features that Property Buyers can interact with in Virtual Property Expo. You can host images, documents, data sheets, and play videos to bring your booth to life.
EXHIBITOR COMPANY INFO
One can view the information of the exhibitor.
CONTACT FORM
The property buyer can submit the details via contact form to the real estate exhibitor/agent.
BANNERS AND POSTERS
Images used to brand the booth. Some wall posters are clickable and give access to high resolution images.
DOCUMENTS
Brochures, catalogues, flyers introducing the company, Application/Lease forms, property maps and blueprints, property/real estate information sheets.
VIRTUAL BUSINESS CARD
Contact information of the property exhibitor & Virtual Business Card exchange request option available.
CHAT
Allow the real estate prospective buyer to chat with exhibitor in a virtual environment, clarify their questions instantly at Virtual Real Estate (Property) Expo.
VIDEOS
Videos of Company introduction, Property videos, Property Walkthrough & 360 videos and advertisements can be publicly available.
PROPERTY (REAL ESTATE) BOARDS
Improve the property search and attract more qualified leads with branded, user-friendly property board software. Help prospective buyers to find their best-fit opportunities and take action quickly — while showcasing property information.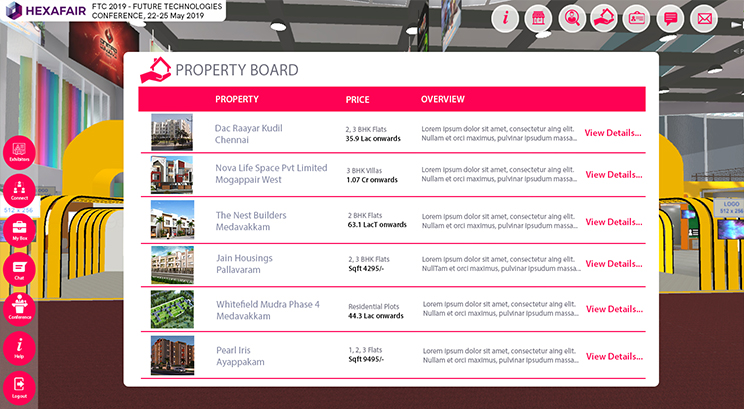 360 VIRTUAL TOURS
What if you could give potential buyers a tour of your property before they invest? Share interactive detailed virtual tours or the property's amenities, special features, room views to potential buyer for them to make a quicker decision.
SIMPLIFY THE PROPERTY SEARCH
Fill leads & sales faster by making it easy for property buyers to find the right real estate properties and take action in clicks with 'Robust filters and Search Tool'.
Video Conferencing with booth staffs
What makes the virtual fairs experience so special? Booth representatives can engage with visitors via text/audio/video chat in real time during Virtual B2B Trade fair. No extra downloads needed - attendees can take their video conferencing with booth staffs directly in HexaFair.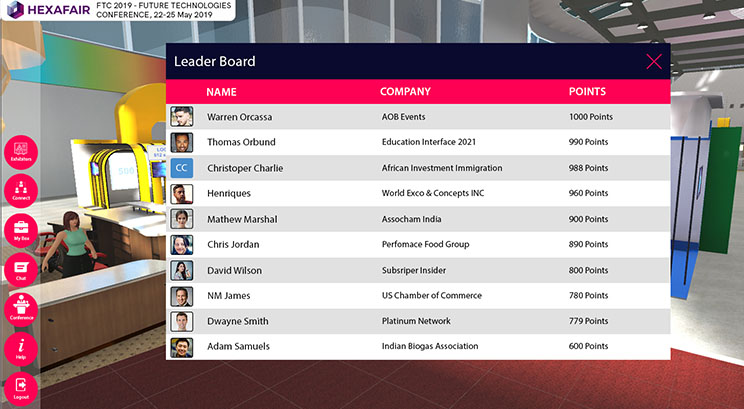 GAMIFY THE ENTIRE EXPERIENCE
Add zing to your virtual fairs& virtual trade show and gamify it with HexaFair. Incorporate gamification features in real-time and create a fun & memorable experience.
Activate leaderboard for virtual communities
Assign points to different activities
Reward attendee activities and actions
DASHBOARDS - Success You Can Measure
Track every detail of your virtualtrade show& hybrid fairs with live insights and instantly report event ROI to your stakeholders
EXHIBITOR DASHBOARD
Average no.of time spent by attendees in Booth, No.of people visited the booth
Online meetings: Total no.of business cards exchanged, No.of 1:1 chats happened
Attendees by industry, Attendees by interest, Attendees by Country, Attendees by Job Position
EVENT ORGANIZER DASHBOARD
Total no. of Registrations
Online meetings: Total no.of virtual business cards exchanged, No.of 1:1 chat happened
Booth documents statistics: Last 15 days, all time, Top 20 images viewed, Top 20 documents viewed, Top 20 videos viewed
Average time spent by attendees in Auditorium, Booths, Reception, Business lounge
REPORTS
HexaFair provides you with full access and visibility for your virtual property expo and ongoing content to help you gain actionable insights, accelerate your sales funnel, and ultimately grow your business. Drill down reports can be exported in CSV formats for further data processing.
VIRTUAL PROPERTY FAIR EXHIBITOR
Can avail the reports of Booth traffic (attendees who visited the booth), Booth contents viewed report (Images, Videos, Documents), 1:1 chat made with attendees, Business card exchanged with.
VIRTUAL PROPERTY EXPO ORGANIZER
Can avail the reports of Exhibitor registration, Attendee registrations, Attendees who actually participated in the virtual property exhibition, Booth Traffic report, Booth contents viewed report (Images, Videos, Documents), Properties mostly visited & enquired.
FAQ's - Virtual Trade Show
The platform can host 5 to 300 exhibitors/booths
HexaFair runs in all major browsers. No special addons/software required.
Yes. HexaFair provides Android & IOS mobile apps for each event specifically. The visitors of the virtual trade show can install the mobile apps and experience.
HexaFair: There is no limitation. But discuss with your project manager/Sales team for the volume and cost associated in prior.
We can make color changes to the booths without any additional cost. Changing the booth model completely or Integrating your own booth model/your customer's booth model designs, it will incur an additional cost.
Virtual trade fairs have numerous advantages, both for the exhibitor and for the visitors.
Trade fair organizers can attract more visitors with a virtual trade fair, as they are no longer tied to time and place. Virtual trade fairs can therefore also take place over a longer period of time. In addition, there are no limitations for the exhibitors due to limited hall capacities.
Visiting a virtual trade fair is very pleasant for visitors. You do not have to travel separately. A virtual fair can be visited whenever you want and from where they want.
A virtual exhibition booth lives from the same content as a real exhibition stand: company logo, banners, videos, product presentations, products, brochures prepared on the specifications mentioned to the booth model allocated to them.
For this purpose, the exhibitors have attractive template stands available that can be individualized and adapted to the company design.
In theory, different words are meant to describe different types of events.
Virtual Trade Show, as name implies, is an event where companies in a specific industry gather to showcase and demonstrate their new products and services. In general Virtual Trade Shows are business-to-business (B2B) type of events; they are not open to the public and are meant to be attended by company representatives, industry officials and (of course!) press. Usually Virtual Trade Shows are organized and sponsored by trade associations for specific industries, so they are perfect networking platforms for industry professionals.
Virtual Trade Fair, on the other hand, is more business-to-client or customer (not only consumer!) type of event. Companies gather not only to showcase their products and services, but also to sell and market them. Virtual Trade fairs (or simply Fairs) are open to anyone interested and can cover a few industries at the same time. They tend to take place over 3-5 days, sometimes even longer.
Virtual Exhibition has the least of sales element in it; the primary objective is to showcase products and services. Usually Virtual exhibitions cover one industry at a time and are geared towards building general image of a company/brand.
You're Just a Few Clicks Away from a Great Event!
Contact HexaFair team, and explore all the tools and services you need to start, promote, conduct and measure your Virtual Tradefair, Virtual Expo & Virtual conference successfully
The success of your Virtual event is our #1 priority.