International Virtual Trade Fair for Property & Investment
Conduct an International Virtual Trade Fair & Conference connecting Institutional Real estate investors, Real Estate Financiers, Real estate developers & Property & Site operators together, opens up the entire spectrum of the real estate industry in one place.

Virtual Real Estate Expo
Be the leader in online virtual real estate exhibitions connecting prospective property buyers and exhibitors in a revolutionary new way. The virtual real estate expo allow the buyers to walk through an exhibition hall to meet new people, gather information about properties and interact with property owners/agents/developers.

Virtual Housing Fair
Organise Virtual Housing Fair connecting Property Developers and Prospective buyers giving them best experience in Virtual Reality (VR). Share interactive detailed virtual tours or the property's amenities, special features, room views to potential buyer for them to make a quicker decision.
VIRTUAL PROPERTY FAIR WEBSITE - Promote Like a Pro
Drive attendance to your Virtual Property Fair with professional-looking event website and emails that match your corporate branding, while promoting your event via social media and word of mouth. Analyze your event marketing efforts with Google Analytics integration, and target your event marketing more precisely with CRM integration, Hubspot, SalesForce, Zoho CRM.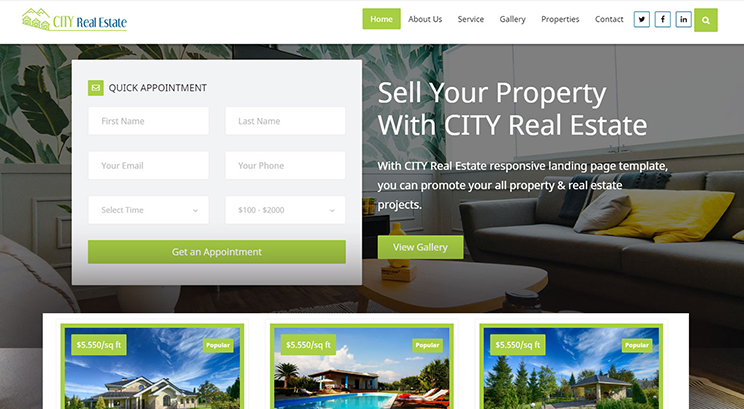 1) Engage prospective leads/buyers anywhere with fully-branded email and text campaigns
2) Develop an informed pipeline of engaged and interested prospective leads/buyers
3) Automate communications to connect with prospective real estate buyers and drive action at the right time
EVENT PLATFORM - Host Flawless Virtual Property Fair
Ensure your attendees have a positive experience from the moment they arrive at Virtual platform until their final session.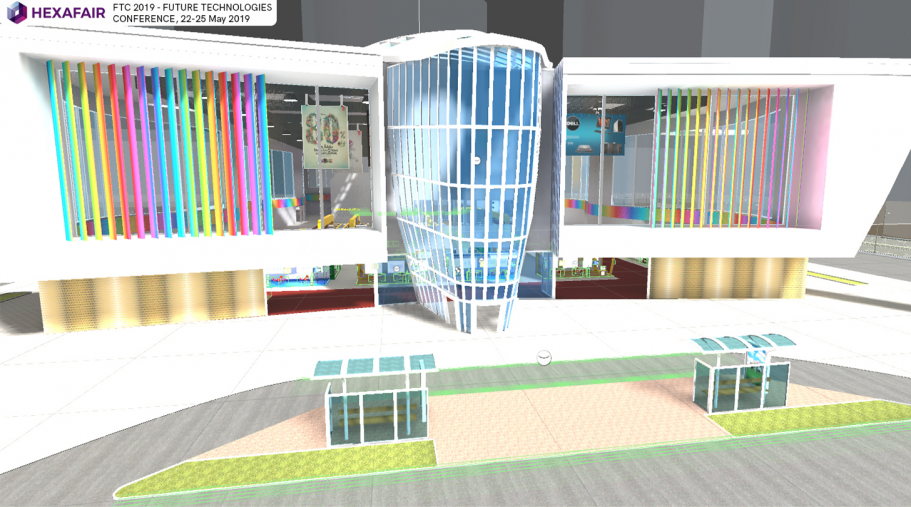 FEATURE-PACKED BOOTH
Booths are packed with features that Property Buyers can interact with in Virtual Property Expo. You can host images, documents, data sheets, and play videos to bring your booth to life.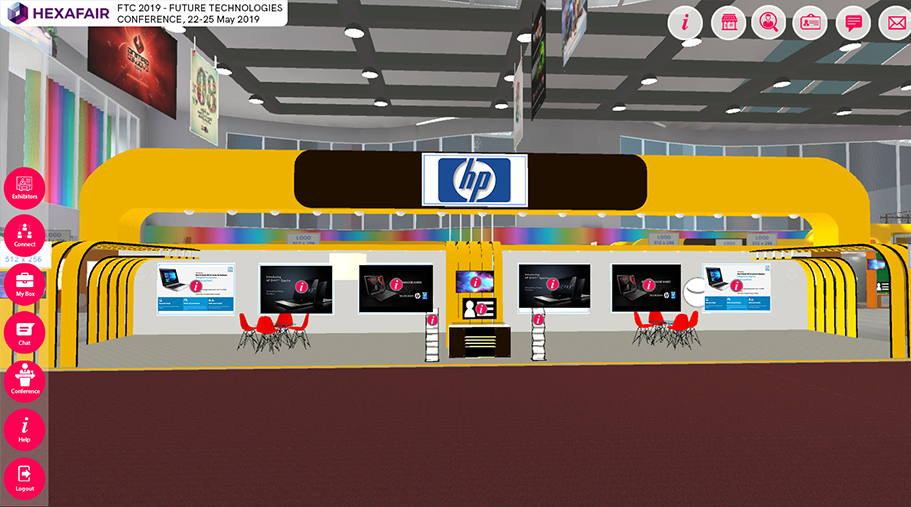 PROPERTY (REAL ESTATE) BOARDS
Improve the property search and attract more qualified leads with branded, user-friendly property board software. Help prospective buyers to find their best-fit opportunities and take action quickly — while showcasing property information.
1) Attract quality leads with detailed property information targeted to specific buying personas
2) Expand your reach with property board distribution and buyer alerts for new property inventories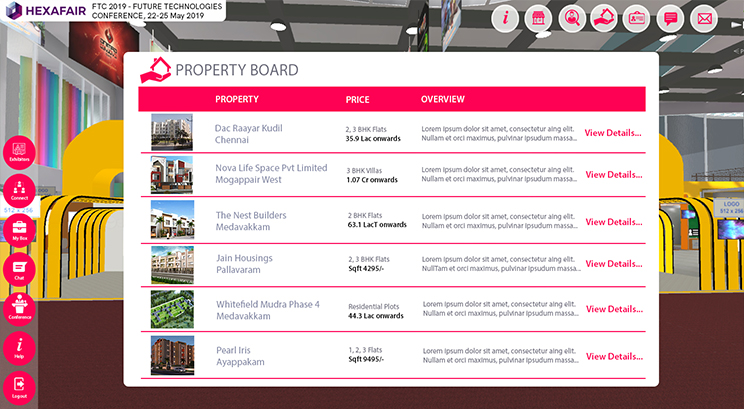 1) Increase staff productivity with flexible meetings that let staff get more done
2) Conduct virtual online meetings with real estate buyers from anywhere, avoiding delays and scheduling conflicts
3) Connect in seconds directly from the platform — no add-ons or training required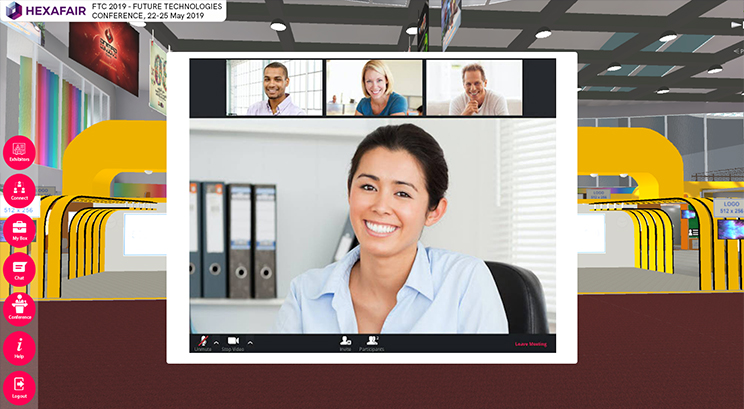 DASHBOARDS - Success You Can Measure
Track every part of your virtual property fair with real-time insights and instantly report event ROI to your stakeholders.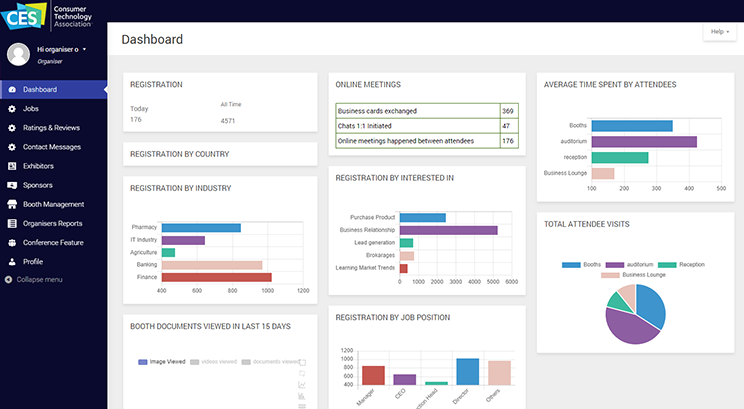 2) Online meetings: Total no.of business cards exchanged, No.of 1:1 chat happened
3) Attendees by budget range, Attendees by interest, Attendees by Country
2) Online meetings: Total no.of virtual business cards exchanged, No.of 1:1 chat happened
3) Booth documents statistics: Last 15 days, All time, Top 20 images viewed, Top 20 documents viewed, Top 20 videos viewed, Top 20 Properties viewed
4) Average time spent by attendees in Auditorium, Booths, Reception, Business lounge
REPORTS
HexaFair provides you with full access and visibility for your virtual property expo and ongoing content to help you gain actionable insights, accelerate your sales funnel, and ultimately grow your business. Drill down reports can be exported in CSV formats for further data processing.