There is no doubt that hybrid events have completely changed the landscape of the event industry. In fact, during this pandemic, many organizations whether they are small or big, have adopted the hybrid style conferencing method.
With its constant rise, venues around the UK are implementing their studios with all the modern-day technological advancements to meet the ever-changing needs of the event organizers.
In this post, we will be discussing the 20 best hybrid events venues in the UK that can host all kinds of hybrid events effortlessly.
So without any delay, let's begin!
1. ONE BIRDCAGE WALK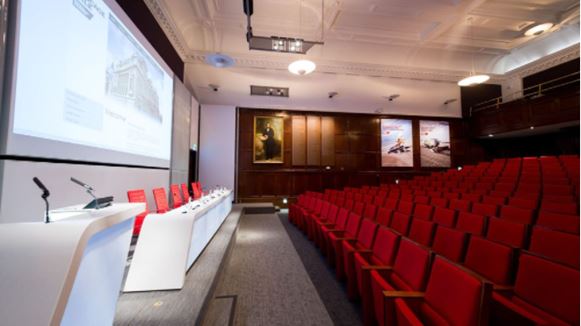 If you are looking to host your hybrid event in the heart of the London area and a historical venue, then ONE BIRDCAGE WALK would be a perfect fit. This venue was first  build for mechanical engineers as an accommodation facility.
It consists of all the necessary tech you need to successfully host a hybrid event full of quality experiences for your audiences. It features high-speed Wi-Fi, a variety of audiovisual equipment, and perfect air conditioning throughout the hall. You can choose from 12 different hybrid event spaces of various sizes and each one has a unique design.
With these 12 different event spaces. We are sure that you will be able to find the right one to host your hybrid event.
2. 1 WIMPOLE STREET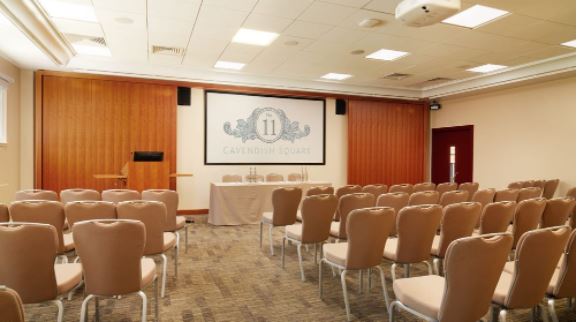 This venue is one of the best hybrid events venues in the UK. It has so many impressive offerings for its customers starting from 15 function rooms, and among them, three are equipped with high-tech to host both virtual and hybrid events.
With a highly efficient in-house technical team, it is no surprise that the hybrid event spaces are well equipped with modern-day technology. It features HD cameras, interactive voting handsets, 4K HD projector systems, and wireless LED lighting. The wireless handsets and the wireless LED lighting will wow the in-person attendees, the live streaming equipment will take care of providing an immersive experience for the virtual attendees.
3. REGENT STREET CINEMA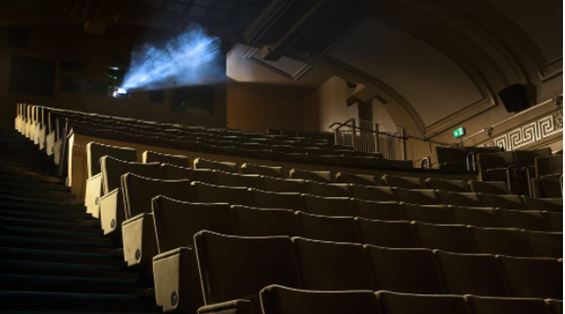 Whether you are planning to host the next hybrid event in a unique venue, or you want to have an event space that is full of wow factors, the REGENT STREET CINEMA got you covered. This theater has a large LED screen and a fully digital stage.
With these features, you'll be able to host all types of events without any worries whatsoever. In a true theatrical form, the venue can Illuminate your event with its fabulous lighting effects.
It is the most sought-after venue in the UK and the cinematic beauty of the venue will make your guests enjoy the entire event without any distraction.
4. ASIA HOUSE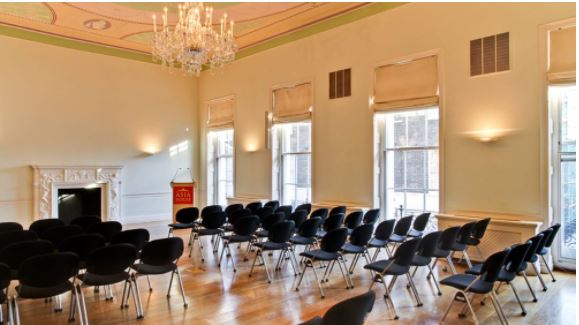 The ASIA HOUSE is a fully decorated hybrid event space and with its fantastic backdrop, you can rest assured that your guests will be focusing only in your event. It has all the ingredients of a traditional venue without lagging in any of the modern technology that is required to host a successful hybrid event.
This venue offers 7 event spaces of all sizes with air conditioning, Wi-Fi, and a variety of audiovisual packages for all of them. Whether you choose any of the rooms to host, you don't need to have any doubt that the technology will be of top-notch quality for your hybrid event.
5. STUDIO SPACES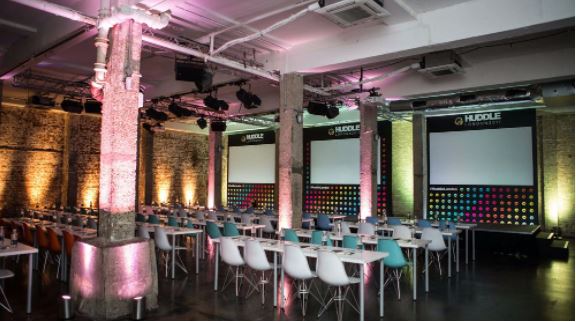 The STUDIO SPACES is designed with industrial standards and modern aesthetics. It is a striking option for most hybrid event organizers.
The venue has three different studios to offer namely black studio, white studio, and the warehouse. All of these studios are designed as a blank canvas so that your brand and the presenters can take center stage.
What it means is that whatever type of hybrid event you host, will look stylish for each one of your attendees. It is conveniently situated in St Katherine's Dock and hence, the in-person guests can travel to the venue without facing any problem.
You will get a dedicated manager and a fully equipped production team to make sure that your event runs effortlessly.
6. NO.11 CAVENDISH SQUARE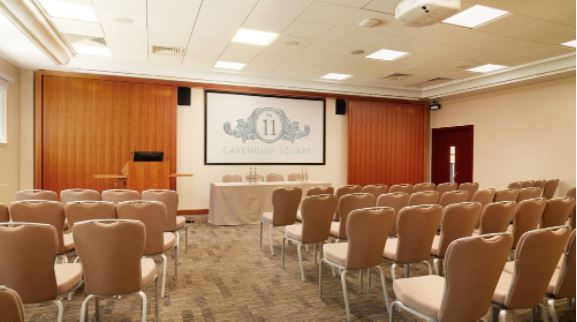 This hybrid events venue is fully equipped with modern features and traditional stylistic elements. Hence, the No.11 Cavendish Square is not a venue to be overlooked. It offers 20 different event spaces spread across four floors.
No.11 Cavendish Square is undoubtedly one of the best hybrid events venues in the UK and it is specially designed for organizing exceptional events.
The event spaces include different lecture theaters that are fully equipped with audiovisual equipment, HD projectors and screens, in-built PA systems, and 500 MBS Wi-Fi. With several breakouts, meetings, and boardrooms, whatever event you are planning to host, you can stream it as well.
If you have in-person guests, then the venue and the rooms are easily accessible and pretty simple to navigate around. Each space has a special networking area to connect and collaborate.
7. BMA HOUSE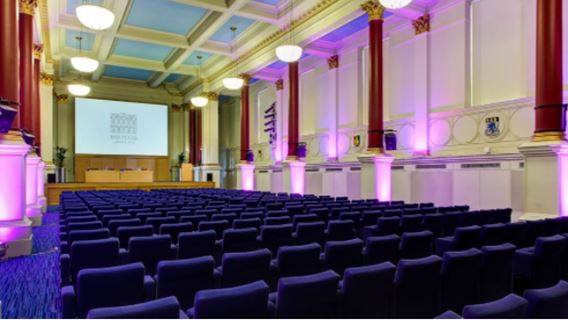 The BMA HOUSE appears stunningly beautiful and provides all the modern technological advancements. The venue has enough space to organize any type of event.
This historical hybrid events venue is a perfect home for all of your events. The great hall of the BMA HOUSE can be used for hosting large conferences, and all other venues can be utilized for other types of hybrid events.
Apart from conferences, the great hall is also open for weddings which clearly states that it is impressive in its appearance. It has both full blackout and natural light facility and depending on the occasion, you can use one of these to make your event an unforgettable one for your attendees.
8. TOBACCO DOCK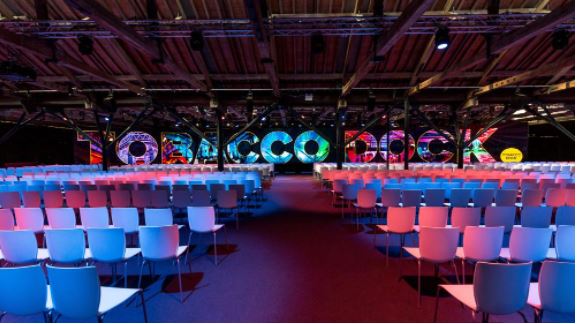 This hybrid events venue offers 40 different spaces to cater to all types of gatherings. One of the large spaces in this venue is the great gallery and the in-person guests will love the overall design of the hall and its overhead timber beams.
The rich history of Tobacco Dock can be identified in its architecture. Apart from that, the virtual guests will get advanced rigging and lighting facility, a PA system, blackout capability, and a fiber data network.
If you are organizing small functions, then you can go for the Dock Gallery. It is particularly bright with natural lighting and you can use the blackout facility if needed.
9. Menier Lounge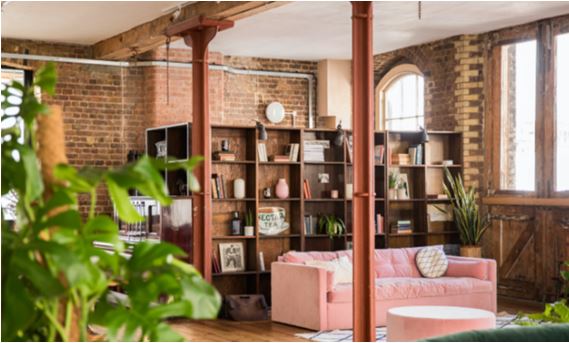 The Menier Lounge is located on the first floor of the Menier chocolate factory and it is truly stunning. With a traditional building, the venue has all the modern-day equipment to host a memorable hybrid event. It is a perfect venue for organizing corporate events and formal gatherings.
Apart from that, you can use it for all types of meetings as well. Along with the event space, you will get a small kitchen with a dining table for 12 people.
All the spaces in the venue are decorated with excellent interior design and supreme quality furniture to make use of during the event.
10. The Steel Yard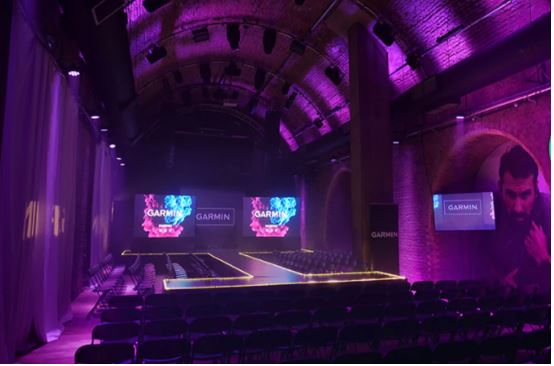 The Steel Yard provides studio spaces for organizing hybrid events that are high-quality. All of your virtual attendees including employees, clients, and stakeholders can be brought together in one single room, while the in-person guests can settle into the event safely with proper social distancing guidelines.
It offers very fast internet connectivity with one GB speed and it is built behind the picturesque setting. There is no doubt that this venue will enhance the overall profile of your brand and you will be able to virtually engage with attendees all around the world.
With an in-house production technical team ready to assist you, organizing a successful hybrid event won't be an issue.
11. AMP Studios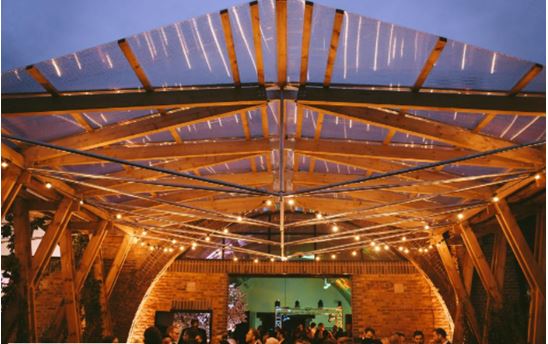 When you want to host your hybrid events in a premier venue, look no further than the AMP Studio. The generous pavilion and the attractive courtyard space will wow the in-person guests.
Since it is a blank canvas, you will be able to design your hybrid event based on your brand requirements.
Apart from that, you can set up your dining and bar to accommodate the in-person attendees. You can organize all types of hybrid events without worrying about the size of the audience.
It has a standing capacity of 200, dining 96, and the theater can hold up to 100 people at a time.
12. Loft Studios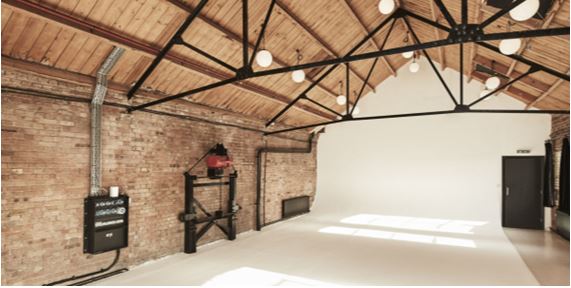 If you are looking for an event space that is in the heart of west London and that is fully equipped with modern-day technology, then you don't have to go far from LOFT STUDIOS. This venue is built with Victorian architecture with five interlinking spaces and a couple of courtyards.
This venue is available to host all types of hybrid events. The attractive feature of the LOFT STUDIOS is that it has a high-quality natural lighting facility.
The 5 event spaces and a couple of courtyards are allocated for separate events and you will only be able to use them for that particular one.
13. Senate House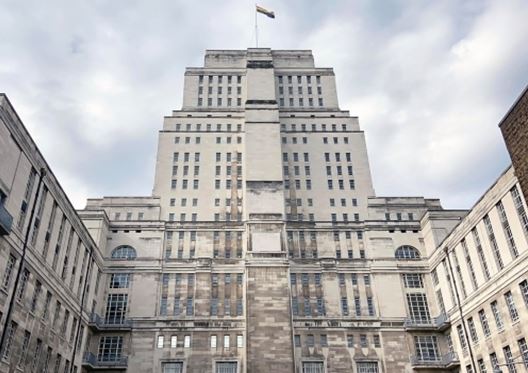 The Senate House is situated in the beautiful landscape of the university district of leafy Bloomsbury and it is fully decorated with art that feels soothing for the in-person guests.
This historical venue retains the 1920 architecture without compromising in providing all the modern-day equipment required to smoothly run your event.
It also provides modern-day event spaces with attractive contemporary designs.
Whether you are organizing a conference, an award ceremony, or a business meeting, it is an ideal venue to host it successfully.
14. Apex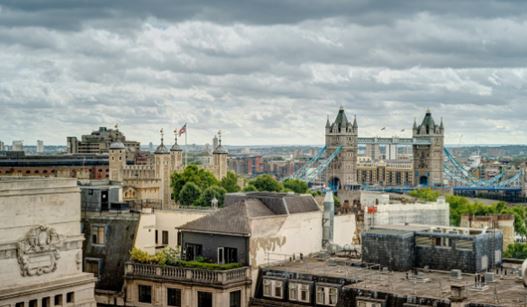 Apex has six hotels throughout the UK that you can use to organize all kinds of hybrid meetings and events. It offers world-class technology to host memorable events of any size.
From a small boardroom setup to a large conference, the venue got you covered. You can host both in-person and virtual attendees simultaneously. It offers high-speed internet, state-of-the-art technological equipment, high-quality audiovisual experts, and experienced onsite technical support team, and all the health and safety protocols to make your event a successful one.
The live streaming capacity adds significant value to this venue.
15. Earth Hall, Natural History Museum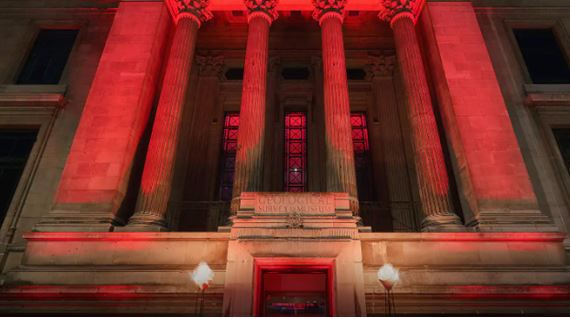 With 120 sitting and a 400 standing capacity, the Earth Hall, Natural History Museum is a picturesque venue to host your hybrid event. It is the most extraordinarily designed event space, especially for corporate gatherings.
It is one of the iconic and best hybrid events venues in the UK that offers supreme quality facilities and amenities to make your event experience unforgettable.
This venue offers natural light capacity for even better lighting to your event and breakout spaces for organizing networking with the attendees and the guests alike. With a large theater and an LED screen, you can live stream your event without any hiccup whatsoever.
16. Embankment Galleries, Somerset House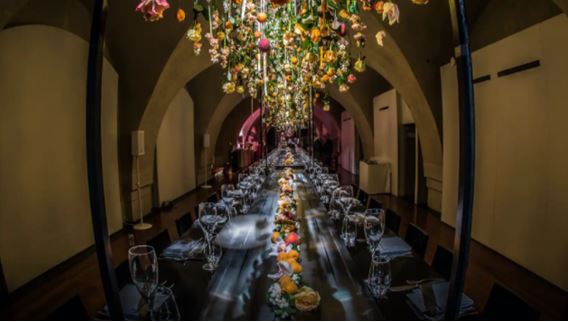 The best thing about the Embankment Galleries at Somerset House is that you will be able to personalize the event space according to the brand requirements. This historical venue will be a perfect space that is incredibly designed with both traditional and contemporary features.
It is also the most adaptable event space particularly designed for hybrid events. The venue offers extensive breakout spaces to conduct networking events seamlessly.
If you are looking for a top-class space in the London area, this must be on your planning list.
17. Soane Hall and Galleries, One Marylebone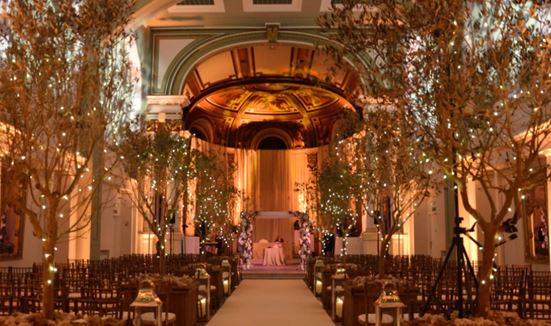 This event venue was first built in 1826 and ever since it has evolved to significant heights. It first opened its doors for public booking in 2008 and quickly became one of the most sought-after venues in the capital city.
This is a luxurious venue that can be used for all kinds of hybrid events. No doubt that this venue is absolutely impressive in its appearance and beauty.
Your guests will be thoroughly satisfied with the event experience thanks to its modern technological equipment.
It has 400 seating capacity and with this large space, you can host events of any size with no issues.
18. The Atrium, The Design Museum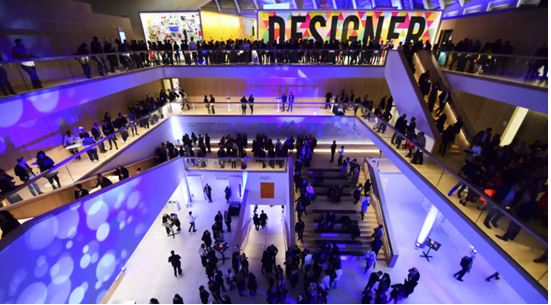 This venue at the design museum is a perfect place for corporate hybrid events. The design museum is in itself an iconic place and when you add this event space into the mix, the beauty is indescribable.
It will surely impress both the in-person and virtual guests. The design, the museum is a great backdrop that you can set for the virtual attendees.
From exhibitions, corporate events, to business meetings, this venue will captivate the imagination of all of your attendees for sure!
The venue is open for both public and private hybrid events.
19. Hybrid event studio, ExCeL London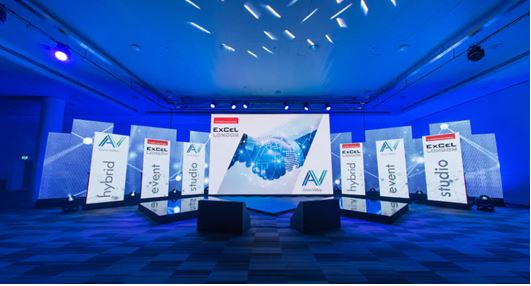 ExCeL London offers a state of the art technology and it is specially designed for hybrid events. It will be able to host all types of events no matter the size.
The studio can offer you an impactful set and broadcast-quality feeds within a self-contained environment to meet all the health and safety standards.
It features a versatile digital backdrop with a stage floor, a full sound system, and a super quality lighting rig.
Along with it, you can use premade graphics to set as a background for the virtual attendees. You can also live-stream your hybrid event to a platform of your choice.
20. The Studio, Twickenham Stadium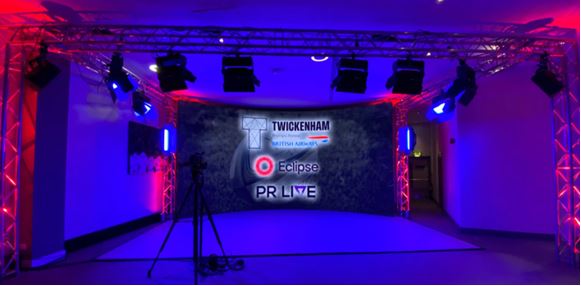 This venue from the Twickenham Stadium offers state of art LED smart studio that can host any hybrid event comfortably. The studio is managed by Eclipse, one of the well-known events management and production companies in the London area.
The studio is fully equipped with all the health and safety measures and it provides a powerful LED backdrop, full broadcast, and lighting rig, all the broadcast hardware and software, camera, content design and facilitation, and an experienced audiovisual team.
A separate greenroom is situated right above the studio and you can use it for post-production work, a practice area, or even a dressing room.
Conclusion
There you have it. This list of 20 best hybrid events venues in the UK will offer you all the things you need to host a successful and memorable hybrid event.