Hybrid events are becoming popular these days and especially during the global pandemic, its growth has been phenomenal. Also, hybrid events are a critical component of conferencing especially during these challenging times.
There are so many aspects that make a great hybrid event and one of the key things is its venue.
In this guide, we are going to be discussing the 20 best hybrid events venues in the USA that are going to provide a great and quality experience for your next event. You can rest assured that our comprehensive hybrid events venues list has covered everything you need to successfully host your event.
So without any further ado, let's get started!
The best hybrid events venues in the USA
1. Worre Studio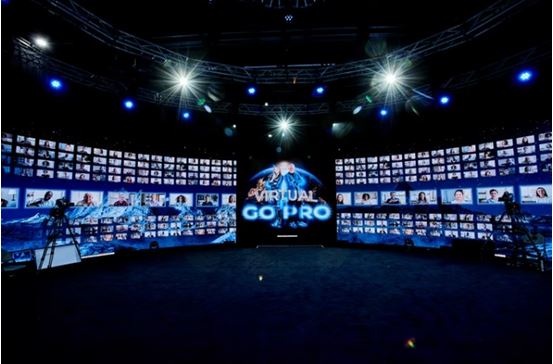 Starting our list is the Worre Studios, located in the beautiful city of Las Vegas. This studio has a total space of 25000 square feet that can host all types of hybrid events with ease. It was first opened for public booking in April 2021. This venue can connect up to 250000 interactive participants in a session virtually.
Apart from that, Worre Studios is equipped with a 360 degree 4K LED stage, real-time chat and audio communication, a live cast control room, various production offices, green rooms, several media villages with 48 iMac workstations, and a social media management dashboard.
2. Anaheim Convention Center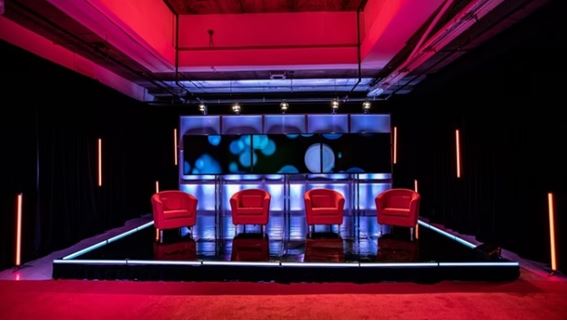 The Anaheim Convention Center is situated in picturesque Southern California. A brand new studio option for hybrid events was launched in April 2021 and the attractive thing about it is that it's mobile.
You can either use it as a hybrid event space or an offsite studio for full circle virtual event production. Its features include a custom digital backdrop, live streaming, and video broadcast facilities, supreme quality video and audio equipment, a fully-fledged audiovisual and lighting setup, support for presenters with timers and cue lights, recording, and web interface features, and much more.
A technician, video camera operator, stage manager, and a video/audio/broadcast engineer will be there to assist you.
3. Experience Factory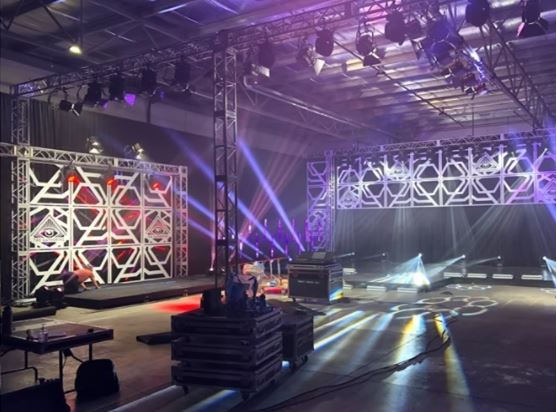 Experience Factory was founded by a couple of Canada-based companies in February 2021. It features 7000 square feet of private broadcasting studio and hybrid event space.
The most attractive thing about this venue is that it is fully customizable. It is equipped with top of the line audiovisual equipment, staging and lighting ability, multicamera and multistage capability, a private loading dock, a separate entrance for all your guests, quality green rooms, various production offices, dedicated health and safety coordinators for a safe experience, UV light sanitation of all of its products and surfaces, a UV air purifier, and different kinds of sanitation stations.
4. George R. Brown Convention Center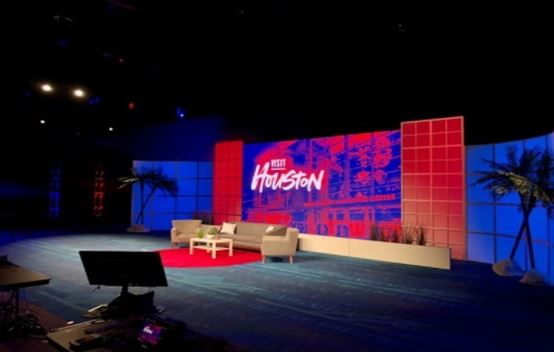 Next on our list is the George R. Brown Convention Center. This Houston-based hybrid events center has opened public booking in August 2021. It features a 5250 square feet broadcasting studio inside its campus.
The hybrid event's location has been named the Avenida Houston Virtual Studio by its founders. This studio is permanently available for hosting hybrid events. The most attractive thing about this studio is that individual presenters can be integrated from anywhere around the world.
And if you want to integrate groups, a separate set of audiences, and a panel of presenters from a studio location or several live locations.
Other features include chat, poling, and interacting options across different platforms. This is the first convention center in the entire USA to implement bio-defense air purifying technology.
5. Four Seasons Hotel Silicon Valley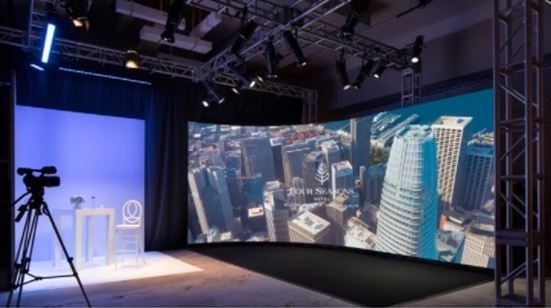 If you are looking for a hybrid events location that has all varieties of pro-equipments that you are looking for, then consider planning your next hybrid event at the Four Seasons Hotel in Silicon Valley. It is one of the best hybrid events venues in the USA for sure.
In November 2021, the hotel restructured part of its main ballroom into a virtual studio. This studio is equipped with an LED stage and a backdrop stage, as well as the studio-grade lighting, broadcast-quality camera, and audio equipment, a green room for presenters, a full production team for fulfilling your needs, a color customizable studio backdrop stage, and 24 feet powerful LED screen.
6. AREA15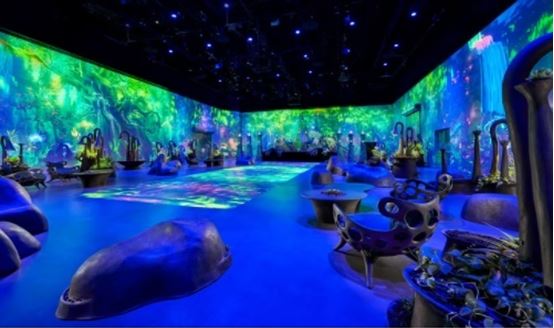 AREA15 is a large, 40000 square feet event, entertainment, retail, and dining complex that has allocated certain sections of its area as a hybrid event space. It is situated in the beauty-filled Las Vegas city.
It has opened for public booking from September 2021 and the most delightful thing with this hybrid events space is that it features a floor to ceiling projection mapping. The hybrid events space is a 6584 square feet room that provides a blank canvas for all kinds of meetings.
Another quality selling point with this event is that the faces of the digital attendees can be mapped on the wall. Apart from that, you'll also get an onsite team that can assist you throughout the event.
7. Walter E. Washington Convention Center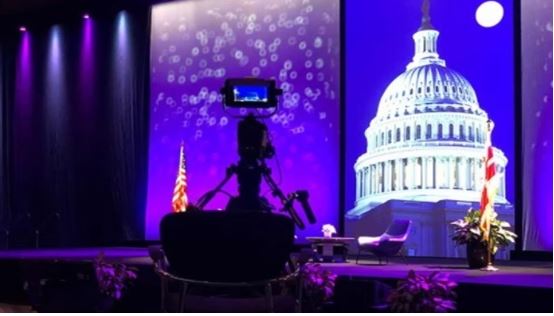 In September 2021, the Walter E. Washington Convention Center was opened for public booking. The hybrid events space is called Studio 801.
The space is 19000 square feet long and you'll be able to host all kinds of hybrid events without worrying about the size of the audience. This production facility offers to rig, enhanced audiovisual and lighting, and dynamic LED screens.
The virtual space is integrated with the in-person event experience.
All in all, one of the best hybrid events venues in the USA!
8. Esports Stadium Arlington & Expo Center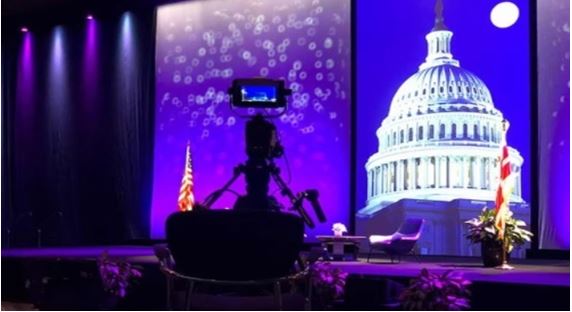 The Esports Stadium Arlington & Expo Center was recently renovated and presents itself with a new look for its visitors. The hybrid events space claims that it is the largest dedicated events venue in the entire Texas state.
It provides 100000 feet of land for its hybrid events venue and hence, you can organize your event no matter the size of the audience. It consists of a 90 feet LED stage, a high-quality broadcast and production studio, completely developed production rooms for organizing your event, a kitchen with multi-cuisine facilities, 2500 seating capacity for in-person attendees, and so much more.
Very near to the event space, a 48000 square feet exhibition hall is attached.
9. Orange County Convention Center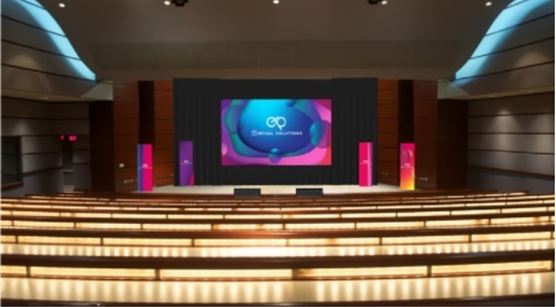 The Orange County Convention Center recently opened a digital studio for hosting hybrid events. It is called the OCCC Executive Studio.
It is very particularly designed for hybrid events, conventions, and trade shows. The studio has partnered with an audiovisual company called LMG to provide interactively, and feature rich, and flexible technology tools and equipment. It has complete customizable options for audiovisual production and lighting. Other than that, this convention center has Linda W. Chapin theater that is equipped with a 97000-watt audio system and a fully-featured LED stage.
10. Jacob K. Javits Convention Center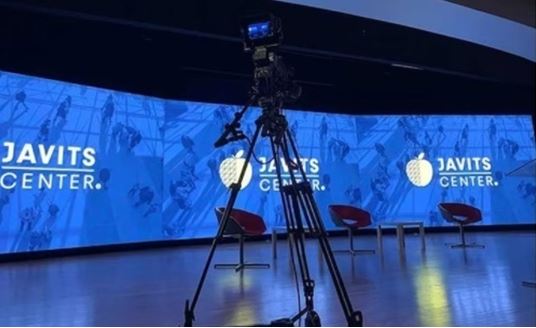 These days, most convention centers are opening broadcasting studios and hybrid event spaces. The latest to join in this bandwagon is the Jacob K. Javits Convention Center. It has a 30000 square feet space for hybrid events, and it has opened its doors for public booking on August 2021.
This studio is fully featured with modern-day technology and equipment. It offers a 50 feet LED wall, 2 studio cameras, wireless connectivity, and wireless mikes, and much more.
It can host up to 300 in-person attendees in a comfortable, social distancing setting. You'll get a private green room and an experienced onsite production team to assist you in case of any last-time hiccups. You can also seamlessly connect both live and digital attendees.
11. Hotel Roanoke & Conference Center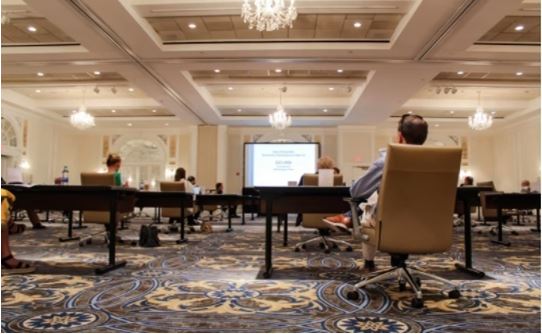 The Hotel Roanoke & Conference Center splurged a large chunk of money into its renovation. And after its completion, the space appears with a brand new look for its visitors. The renovation mainly focused on adding virtual and hybrid event capabilities that include built-in audiovisual equipment and connectivity throughout the entire space.
The wireless connection management can now accommodate 2000 different devices, virtual broadcast via Zoom, Microsoft teams, or Webex.
The third-party broadcasting center is supported entirely with a simple HDMI connection. The venue also provides an exceptional team of technology professionals and they will guide you throughout the entire event.
12. Americas Center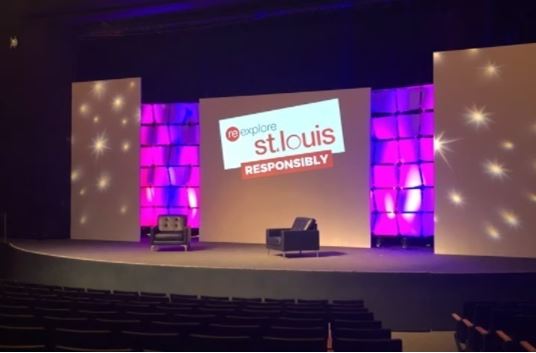 St. Louis is the latest city to open a full-fledged virtual studio for hybrid events and it was opened in October 2021. It is called the new StreamStage hybrid-meeting solution.
You will be able to locate inside the Ferrara theater that has a capacity of 1400 seats. This studio includes a production manager, internet bandwidth for live streaming, an HD camera, a studio backdrop for lighting and projection capabilities, and audio and streaming technology.
It is available to be rented for either a half-day or a full day depending on your needs, and the in-person attendees can safely social distance in the large theater.
13. Monterey Conference Center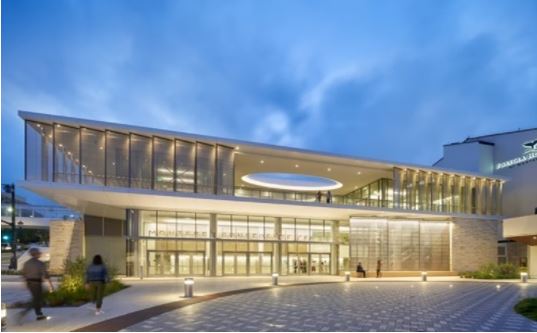 California-based Monterey Conference Center started offering a hybrid event space in May 2021. It offers a best in class facilities in collaboration with the CANVAS technology platform and Immersive Design Studios. It can host any sized event without you having to worry about anything apart from organizing it.
Along with this studio, you'll get adjoining hotels that are fully prepared to fulfill all your accommodation needs.
All in all, this 80000 square feet hybrid event venue is completely capable of offering flexible meeting spaces that would wow your guests and in-person attendees alike.
14. New-York Historical Society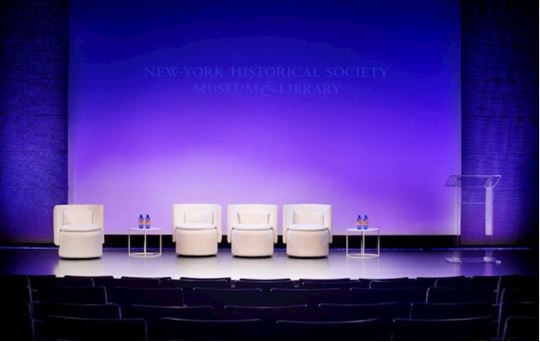 The New-York historical center was founded in 1804 and ever since, it stands tall as America's most valuable cultural center and the oldest museum in the entire city. It is located just across the street from the central park in the bustling upper west New-York.
It is a picturesque and beautiful building that hosts a variety of virtual and hybrid events all throughout the year. The historical venue provides a vibrant theater for organizing your next virtual or hybrid events.
This space also offers you the best in class LED stage and lighting, audiovisual equipments, and a LED screen.
A fantastic venue for all of your hybrid events.
15. Lavan 541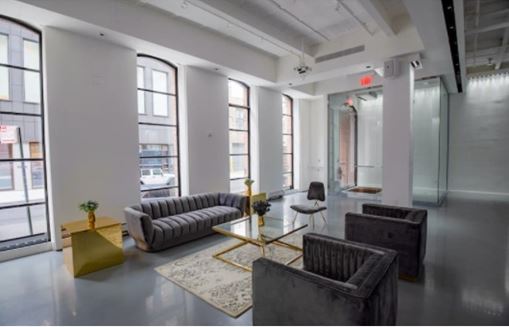 Lavan 541 offers you a space with modern and luxurious interior that has the ability to host any type of event. It is convenient for everybody as it is built in the ground floor and it is located in the heart of the Manhattan city. Along with hosting hybrid events, the production space offers live streaming facility, virtual meetings, professional get-togethers, filming and photography sessions, demo sessions, music production, and can be used for all of your creative needs.
The onsite production team is of the top notch quality and it offers various services that can be utilized by the event organizers.
16. Gotham Hall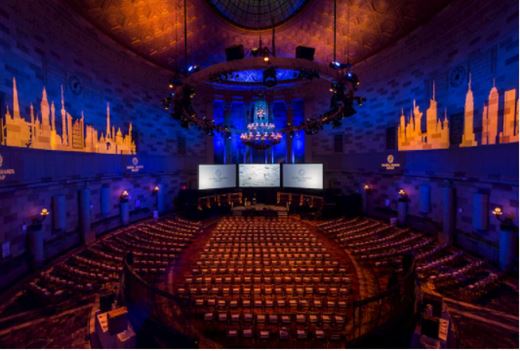 This hybrid events venue is situated in the Midtown Manhattan area and there are so many quality features that will leave you speechless. It is designed with the utmost attention to detail in every aspect and it will create an exceptional hybrid event atmosphere.
Gotham Hall consists of an in-house production team that will be there throughout the event and you can customize it in the way you like it to be. Everything is kept in readiness and safe to handle for each attendee and presenter.
The 9000 square feet venue is perfect to host hybrid events of all sizes.
17. Tribeca Rooftop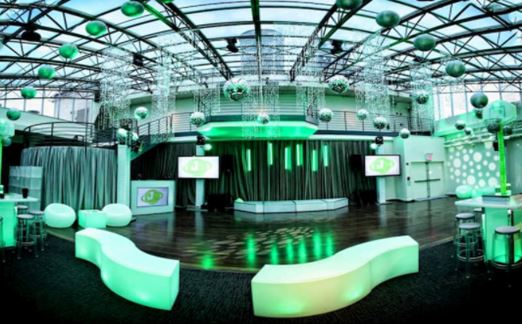 The Tribeca Rooftop is built with impressive open spaces and stunning view points. the venue is designed with the highest industry standards possible and you can host your events in the large open terrace as well. It is definitely the most unique hybrid events venue in the entire New-York city.
The great thing with this venue is that you can customize your events according to your preferences. It will surely give your guests a luxurious and unique feel when they enter into the space.
This studio offers a venue exclusive audiovisual workshop production team provides special packages for hybrid events and they will make sure that all types of audiovisual requirements are fulfilled to the max. The venue is 15000 square feet with beautiful spaces to make your hybrid event experience memorable.
18. Ziegfeld Ballroom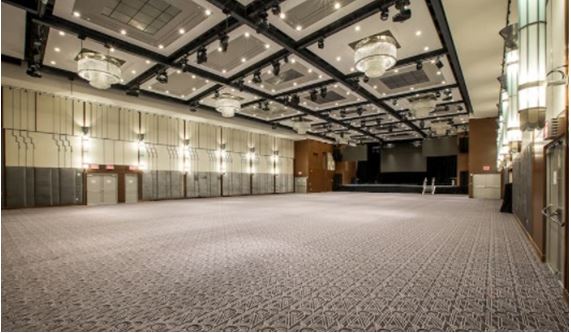 The Ziegfeld Ballroom was a movie theater once and it is converted into an event space. It is located in the heart of the Manhattan city.
This ballroom offers high-ceiling, exclusive design, and it is easy to access for everybody.
This hybrid events venue offers high-speed internet in collaboration with GTT. With the in-house AV department, you will be able to create a fantastic audiovisual experience for each event attendee. It is equipped with all kinds of equipments to successfully host a memorable hybrid event.
Kindly note that this event space can only host one event at a time and to keep it safe for its visitors, they have installed the MERV 13 air filtration system into the venue.
19. Las Vegas Convention Center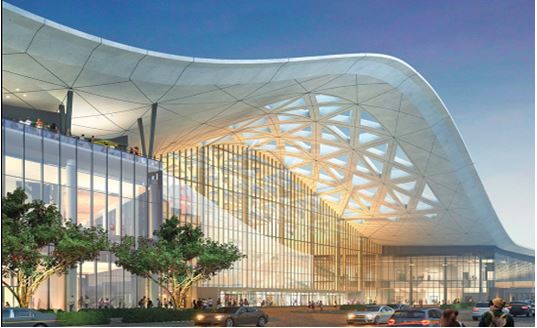 This hybrid events space is expansive in its appearance and can handle any type of event that the organizer planned to host. It has 13 exhibit halls, 145 meeting rooms, and variety of spacious Lobby and Concourse areas.
Along with it, the venue also offers two luxurious restaurants and 18 concession stands onsite. This ensures that you don't have to go far to refuel.
So, if you are planning to host either a business meeting or you want to have a large convention, this hybrid events venue has got you covered!
20. The Cosmopolitan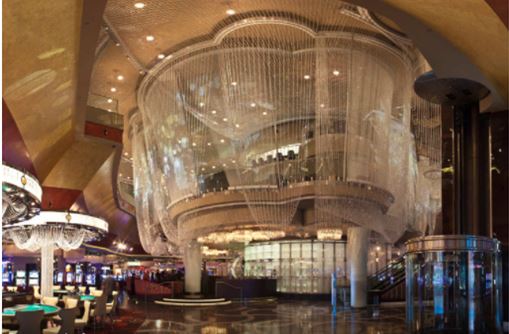 It is the most sought after hybrid events venue in the Las Vegas area. With six ballrooms, 25 meeting rooms, and a business space expands itself to three floors, the Cosmopolitan can handle any size of event without any hiccup whatsoever. The in-house audiovisual team will be with you throughout the event ready to assist in case of anything is required. The services offered in the venue will put planners at ease and your guests can enjoy the luxurious area to its fullest.
It is located at the heart of the Las Vegas city and you will be able to enjoy the vibrant views without experiencing any obstruction.
Conclusion
When it comes to organizing hybrid events in USA, there are quality options available. And our 20 best hybrid events venues in USA would have given you a clear picture of the type of venues you will get throughout the country.
Hybrid events are here to stay for sure!