STEP 1: Open the MUX Account, go to Settings – API Access Tokens – Generate New Token

STEP 2: Create New Access Token
Choose the Environment as Production while you are in live whereas you can choose the development for testing the live streams.
Set the permissions with MUX Video (read & write).
Give the Access Token title
Generate Token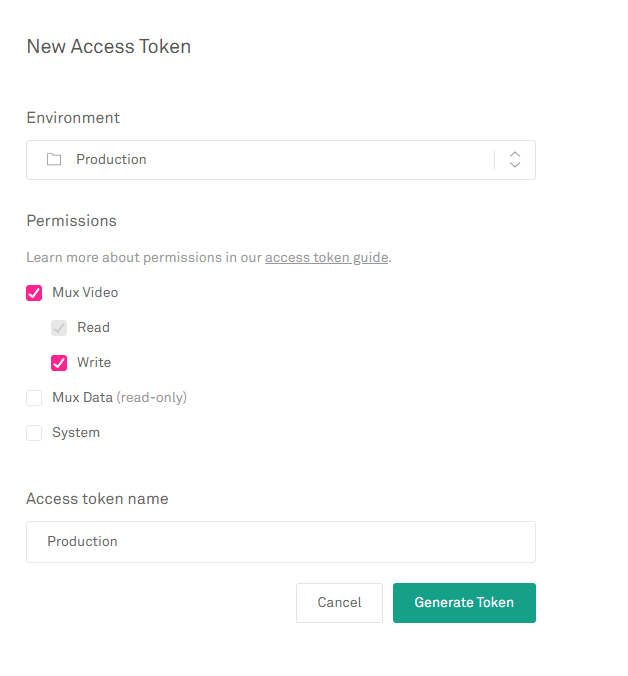 STEP 3: Copy the Access Token ID and Secret Key and Click Continue
STEP 4: Open Organiser Admin Panel – Event Menu – Click EDIT EVENT – Conference – Here choose the Streaming Provider as MUX
Enter the Copied Access Token ID from MUX and Paste it here.
Enter the Copied Secret Key from MUX and Paste it here.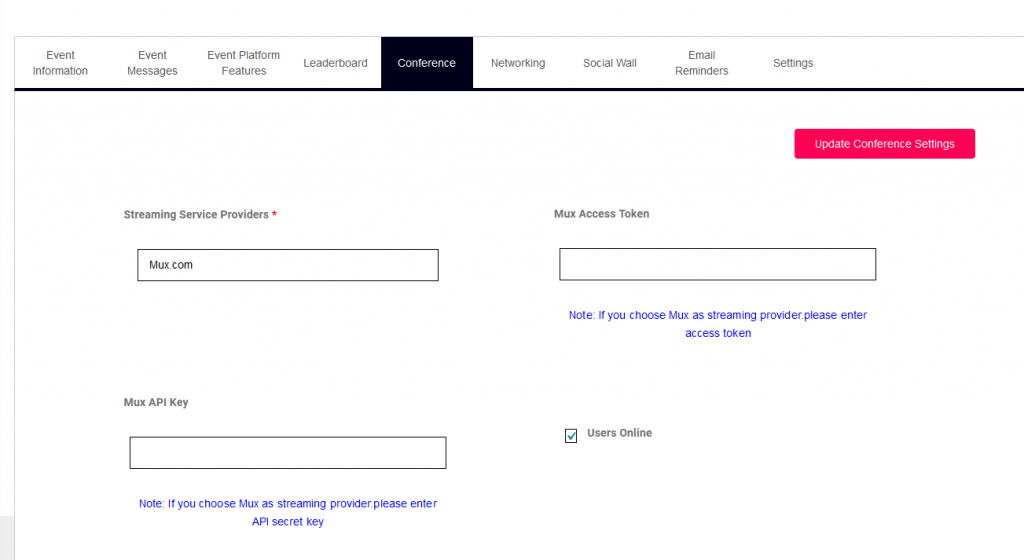 STEP 5: Go to Conference Management – Sessions – Add New Session. Fill all the details which are required for Live Sessions.
STEP 6: RTMP URL, RTMP KEY and Livestreaming Video Id will be auto-generated after clicking on submit button for each session.

STEP 7: After successfully created some new sessions, Edit the created session to see the auto-generated values inside the RTMP URL, Stream Key & Video URL boxes.
STEP 8: First we have to create a zoom meeting with a PAID ACCOUNT. (Note: Only for paid accounts this feature works contact HexaFair team for any help according enterprise account).
STEP 9: Once, after the meeting has been hosted you will see a MORE BUTTON at right last corner in MEETINGS CONTROL PANEL.

STEP 10: By clicking on that you will see an option called LIVE ON CUSTOM LIVE STREAMING SERVICE.

STEP 11: Once you click on that you will directly take you to a web page asking for CUSTOM LIVE STREAMING URLS like the following screenshot.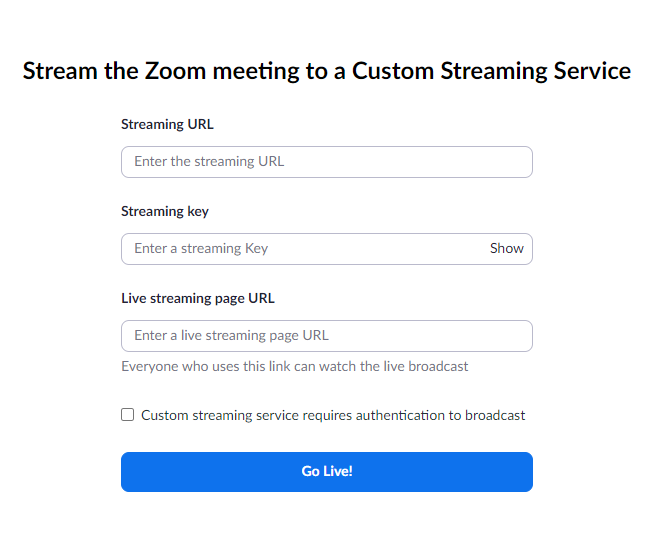 STEP 12: Copy the Values from created session(step6) and paste it in above screen. E.g.: RTMP URL to Streaming URL & RTMP KEY to Streaming Key & Live streaming Video ID to Live streaming page URL and Click Go Live.
STEP 13: Streaming started in Zoom and now you watch the streaming inside the HexaFair Attendee Platform Auditorium.